» 1970s, Pop » Undercover Angel – Alan O'Day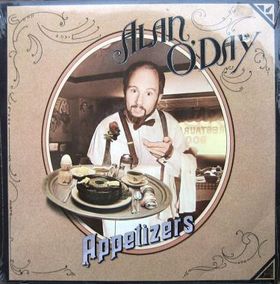 As you dig deep into one-hit wonder history, you discover lots of one-hit wonder artists actually hit the Billboard Top 40 many times as songwriters for other artists. Today's starring player fits that description perfectly. Alan O'Day has spent five decades in the music business writing hit songs or movie and TV theme songs other people made famous. Here is a quick list of his career highlights:
"The Drum" by teen idol Bobby Sherman hit #29 in 1971
"Train of Thought" by the always iconic Cher hit #27 in 1974
"Rock and Roll Heaven" by the Righteous Brothers hit #3 in 1974
"Angie Baby" by the pop world's first feminist Helen Reddy hit #1 in 1974
O'Day was on a roll and rolling in royalty checks.
Then even better fortune struck out of the blue. His record label offered him the chance to record a song for single release only. O'Day delivered with "Undercover Angel," a song he refers to as a "Nocturnal Novelette." That sounds a bit pretentious to our ears; we'll call it what it really is: one big fantasy.
The story starts with a guy lying in his bed. Sad. Lonely. Desperate. Suddenly a visage of beauty appears. It's an undercover angel, and O'Day was inspired to pen the following lines:
Crying on my pillow, lonely in my bed,
Then I heard a voice beside me and she softly said,
"Thunder is your night light, magic is your dream."
And then as I held her, she said, "See what I mean?"
I said, "What?" She said, "Ooh-ooh-ooh, whee."
I said, "All right!" She said, "Love me, love me, love me!"
Chorus:
Undercover angel, midnight fantasy,
I never had a dream that made sweet love to me.
Undercover angel, answer to my prayer,
You made me know that there's a love for me out there.
Somewhere. Yeah, somewhere.

Click to read "Undercover Angel" lyrics
As a little kid, I remember this song hitting the airwaves and I couldn't hear it often enough (and was frustrated when the hit radio station only played it a few times each hour…I think I wanted an all-"Undercover Angel" station that the radio programmers wisely avoided). It should have been the theme music for a Three's Company-like sitcom. The music, the lyrics, the vibe is perfect for some 1970s sitcom hijinks where the nosy neighbors keep finding the TV show's main character and his undercover angel in hard-to-explain situations. Zaniness ensues and Suzanne Sommers or Farrah Fawcett makes a cameo appearance. That would have been comic gold. It always felt like a sister song to "Believe It or Not (Theme from the Greatest American Hero" by Joey Scarburry.
I wasn't alone in my affection for "Undercover Angel" because it hit #1 on the Billboard Hot 100 in 1977. In fact, it became the fourth best-selling single of 1997. The same year that David Soul (TV's Hutch from Starsky and Hutch) hit #1 with "Don't Give Up On Us." Two ballads that made an impact on my adolescent mind.
Click to hear other Billboard number-one hit one-hit wonders
I can't remember the last time I heard "Undercover Angel" on a radio station. It had to be sometime in the 1980s, which is part of its stealthy charm today. You turn on "Undercover Angel" and you're transported back to the innocence of AM radio and the emerging sounds of disco.
American hits end after "Undercover Angel"
That was it for O'Day on the Billboard Hot 100. But he moved on and scored a few more hits in Australia as well as Japan. And in the 1980s he wrote more than 100 songs for Jim Henson's Muppet Babies TV shows. He even won an Emmy award for his work. We remember the song fondly and will always love the pre-chorus of:
I said, "What?" She said, "Ooh-ooh-ooh, whee."
I said, "All right!" She said, "Love me, love me, love me!"
Perhaps Alan O'Day found his undercover angels when he died on May 17, 2013. But this song lives on in one-hit wonderfulness.
Listen to "Undercover Angel" by Alan O'Day
Buy "Undercover Angel" by Alan O'Day
Filed under: 1970s, Pop · Tags: #1 hit, #1 song, 1977, 1977 one hit wonder, Alan O'Day, Billboard number one hit, David Soul, greatest american hero, Joey Scarburry, number one song, one hit wonder, Pop, Starsky and Hutch, Undercover Angel