» 1960s, Pop » Tracy – The Cuff Links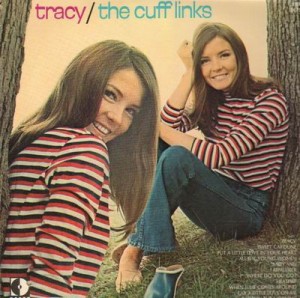 Bubblegum rock rules and I defy you to disagree. "Tracy" by The Cuff Links is one of the all-time greatest bubblegum rock songs you will hear today, tomorrow or ever.
A little too over the top? Listen to this little pop gem three times in a row and then try to get it out of your head.
Impossible.
With the "bah, bah, bah, bah, bah, bah, bah, bah, bah, bah, bah, bah, bah, bah, bah, bah, bah" introduction the song nestles in your cranium and will take up residence for at least 12 weeks, which is as long as "Tracy" spent on the Billboard charts back in 1969.
Hear more: Bubblegum rock songs
The kids loved it and "Tracy" reached number 9 on the Billboard Top 40 in October 1969–just as "Sugar, Sugar" by The Archies was descending the charts.
Why bring up The Archies? Because The Cuff Links lead singer (Ron Dante) was also the lead singer of The Archies. That means Ron Dante had two songs on the Billboard Top 40 at the same time and no one had a clue who this guy was.
But the kids knew and this infectious bit of ear candy made "Tracy" a million-selling single and turned The Cuff Links into one-hit wonders with one of the greatest bubblegum hits of all time.
Listen to Tracy by The Cuff Links
http://youtu.be/7JzbO-ypVlI
As for Dante, he did just fine after The Cuff Links (which were a band in name only) broke up; he went on to record solo records, produce Tony-award winning musicals and served as producer for some of Barry Manilow's earliest hits, including his #1 single, "Mandy" back in 1974.
Buy Tracy by The Cuff Links
Filed under: 1960s, Pop · Tags: 1960s one hit wonder, 1969 one hit wonder, Bubblegum Hit, bubblegum music, Bubblegum Rock, Ron Dante, The Cuff Links, Tracy