» 1980s, Pop » Theme from Greatest American Hero (Believe It or Not) – Joey Scarbury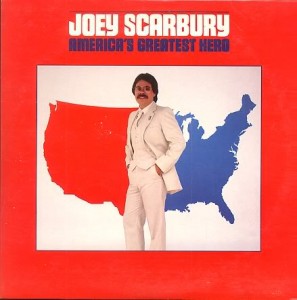 Few songs cry out 1980s sitcom more than the "Theme from Greatest American Hero (Believe It or Not)" by Joey Scarbury. The distinctive piano intro. The simple, sugary sweet pop melody. The fact that the song is called "Theme from Greatest American Hero (Believe It or Not)."
And the album artwork.
Even as a kid I knew this had to be one of the worst album covers ever. C'mon, you can't do better than a guy in a white suit standing in front of a map that seems to dictate the Western half of the country are Republicans and the Eastern half are Democrats? Oh wait, maybe that graphic is a bit prophetic after all.
And Joey Scarbury, in white, is the glue that brings it all together: Red, WHITE and Blue. I've never felt so patriotic.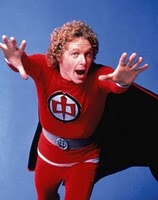 Then again, we loved the "Theme from Greatest American Hero (Believe It or Not)" when it first hit the airwaves. And we loved the cheesy TV show, for a few weeks at least.
But I had to wonder, Who was Joey Scarbury? Was he really, as the album implied, "America's Greatest Hero."
Turns out the guy had some real songwriting chops. But success eluded him until Mike Post, the same Mike Post that gave the world such '70s and '80s TV classics as the themes to The Rockford Files, Hill Street Blues and L.A. Law , tapped Scarbury to write and sing the Greatest American Hero theme.
That was all Joey needed and soon that song hit #2 on the Billboard Hot 100.
Listen to "Greatest American Hero (Believe It or Not)" by Joey Scarbury
Theme from Greatest American Hero (Believe It or Not) - Joey Scarbury
Like any good one-hit wonder artist, Scarbury tried hard to claw his way back into the top 40. He came close with a follow-up single titled "When She Dances" that reached #49. But his next big gig was recording "Back to Back" for the TV series Hardcastle and McCormick. TV themes obviously paid the bills for quite a while.
Click to hear more TV show one-hit wonders
But don't feel bad for Joey. In 1990, he co-wrote a song titled "No Matter How High" that was recorded by The Oak Ridge Boys and hit #1 on the country music charts. So we're thinking Scarbury is doing just fine living off the royalties of his one-hit wonder.
Plus, if you can write a song that is parodied on Seinfeld and widely considered on of its greatest moments (George's answering machine message), we think you deserve a spot in the comedy Hall of Fame. Maybe even the Rock and Roll Hall of Fame.

Filed under: 1980s, Pop · Tags: 1981, george constanza, greatest american hero, Joey Scarbury, one hit wonder, Pop, seinfeld, TV show one hit wonder