» 1970s, Pop » The Night the Lights Went Out in Georgia – Vicki Lawrence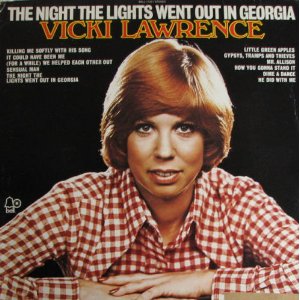 If you grew up in the 1970s, you remember Vicki Lawrence from the Carol Burnett Show, where she was a key player from 1967 – 1978.
It's amazing that Lawrence spent 11 years on a top-rated TV show, but most people I know would never peg Vicki Lawrence (or "Mama") as the singer of "The Night the Lights Went Out in Georgia." Perhaps that's because it was the pre-MTV and YouTube eras and I had never seen video of Lawrence singing the song. Certainly I never saw her sing "The Night the Lights Went Out in Georgia" on an episode of the Carol Burnett show, and I think I saw nearly all of them through re-runs in the 1970s and early 1980s.
This is a dark song about the sister of man who gets lynched in Georgia for the murder of his wife's lover and the disappearance of his wife. But as the song reveals, it's the singer of the song who did the killing. Or as she puts it:
Well, they hung my brother before I could say
The tracks he saw while on his way
To Andy's house and back that night were mine
And his cheatin' wife had never left town
And that's one body that'll never be found
See, little sister don't miss when she aims her gun
Lovely redneck sentiment there. And this little vengeful hit wasn't just popular. It was a huge hit. Interestingly, the song was written by Lawrence's then husband, Bobby Russell.
Listen to The Night the Lights Went Out in Georgia by Vicki Lawrence
"The Night the Lights Went Out in Georgia" by Vicki Lawrence reached #1 on the Billboard Top 40 in 1973 making Vicki Lawrence a one-hit wonder. She never hit the Top 40 again (she hit #75 on the Billboard Hot 100 with "He Did with Me" and reached #81 with "The Other Woman" in 1975. Seems like romance and cheating were common themes in Lawrence's library).
Click to hear other Billboard number-one hit one-hit wonders
This is a well-written story song filled with a whole hunk of lyrics that float by in a cautionary tale. If you don't listen closely, you may have no idea it's about cheating, murder, revenge and corruption. It just sounds like a soulful ballad from the 1970s.
Click to read the lyrics to The Night the Lights Went Out in Georgia by Vicki Lawrence
Filed under: 1970s, Pop · Tags: #1, #1 hit, #1 song, Billboard number one hit, number one song, one hit wonder love song, one-hit wonder ballad, revenge song, story song, Vicki Lawrence