» 1970s, Pop » The Night Chicago Died – Paper Lace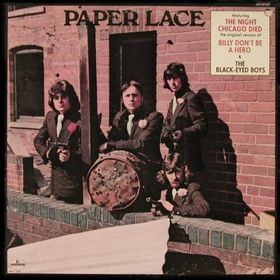 "The Night Chicago Died" was one of my favorite songs as a young kid.
I had no idea who Al Capone was.
The hardest thing I had ever tasted in my life was sour orange juice.
I had no idea what prohibition was or how it was related to Al Capone or how Al Capone and the Chicago cops were connected.
I had no clue that the East Side of Chicago, the same East Side of Chicago made famous in the second line of the song, barely exists. Unless you want to swim in Lake Michigan, which is the East side of Chicago.
The name of the band, Paper Lace, reminded me of a Valentine's doily.
But none of that mattered because "The Night Chicago Died" was an awesomely dramatic pop song. And my friends and I thought it rocked hard.
America agreed because "The Night Chicago Died" by Paper Lace reached #1 on the Billboard Top 40 in 1974 making Paper Lace a one-hit wonder.
Click to hear more one-hit wonders that hit #1
Listen to The Night Chicago Died by Paper Lace
Like so many one-hit wonders, this British band released two albums and quickly disappeared from the public consciousness. But my favorite part of their story is that they also released "Billy Don't Be a Hero" at the exact same time Bo Donaldson and the Heywoods. Their record label knew Paper Lace had a hit on their hands; they just didn't have timing on their side as Donaldson's version of "Billy Don't Be a Hero" sold millions of records while the Paper Lace version languished at #98 on the Billboard Top 100.
Timing is everything and Paper Lace was just a few days too late. But they did hit #1 once with "The Night Chicago Died" and that's more than most bands who have multiple hits can claim.
And for the record, Bo Donaldson and the Heywoods are NOT a one-hit wonder but had multiple chart hits even though the only one you likely remember is "Billy Don't Be a Hero."
Buy The Night Chicago Died by Paper Lace
Filed under: 1970s, Pop · Tags: #1, #1 hit, #1 song, 1974, Billboard number one hit, British band, British one-hit wonder, number one song, Paper Lace, The Night Chicago Died