» 1970s, Pop » The Hustle – Van McCoy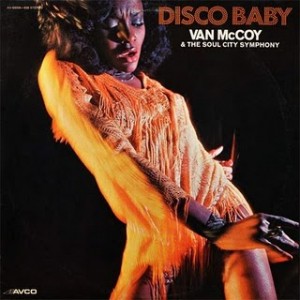 This is it…one of the greatest disco anthems ever.
Someday in a far-distant future, aliens or some post-apocalyptic explorer will discover a cassette tape or vinyl copy of "The Hustle" by Van McCoy and will instantly deem it the World States National Anthem. At least the United States Disco Anthem.
Think about it for a moment; besides "Staying Alive" by The Bee Gees, is any song more associated with disco than "The Hustle?"
Can "The Hustle" be blamed for the line-dancing craze of the 1980s and 1990s?
Did "The Hustle" force Studio 54 revelers to consume massive amounts of cocaine and wear prodigious amounts of polyester?
Yes, yes and yes on all counts.
That is the charm of the disco one-hit wonder. It made people do wonderfully silly things (like dance "The Hustle") all in the name of fun, disco and world peace.
Click to hear more disco one-hit wonders
Van McCoy was a successful songwriter and producer when he released "The Hustle" on his Disco Baby record in 1975. Although no one could have predicted breakout success for "The Hustle" when the largely instrumental album was released, more than 35 years later, someone is probably listening to "The Hustle" somewhere in the world right at this very moment.
Besides the phrase, "Do the Hustle," the song is a string and horn-based instrumental one-hit wonder. That puts it in the same company as "A Fifth of Beethoven" by the Walter Murphy & the Big Apple Band and "Axel F" by Harold Faltermeyer from Beverly Hills Cop. Heady company indeed.
Click to hear more instrumental one-hit wonders
Listen to The Hustle by Van McCoy
(NOTE: YouTube Video may not work on iPad or iPod but WORKS on computers!)

"The Hustle" by Van McCoy hit #1 on the Billboard Top 40 in 1975 making Van McCoy a one-hit wonder. It also resulted in a Grammy Award nomination. Not bad for a three-word ditty that was the last song recorded for Disco Baby.
Click to hear other Billboard number-one hit one-hit wonders
Chart success followed in the United States and Britain, but McCoy never again reached the Billboard Top 40. He died of a sudden heart attack in 1979 at the young age of 39.
But "The Hustle" remains as his valentine to disco forever. Not a bad legacy as far as legacies go.
Filed under: 1970s, Pop · Tags: 1975, Billboard number one hit, disco, disco one hit wonder, Grammy Award, instrumental one hit wonder, number one song, RIP, The Hustle, Van McCoy