» 1980s, Pop » The Curly Shuffle – Jump 'N the Saddle Band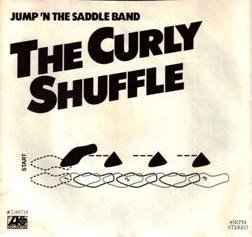 There are lots of novelty one-hit wonders. Songs like "Pac-Man Fever" by Buckner and Garcia, "Disco Duck" by Rick Dees and non-one-hit wonder "The Streak" by Ray Stevens and "Hocus Pocus" by Focus are just a few examples.
You can add "The Curly Shuffle" by Jump 'N the Saddle Band to that list. It's a tribute to the Three Stooges. It's also a tribute to songwriters who are savvy enough to borrow a little interest from a beloved topic like Pac-Man, Disco or The Three Stooges to write a song about it. The results? Big Top 40 Billboard hits, of course.
"The Curly Shuffle" was released in 1984 and quickly shot up to #15 on the Billboard Hot 100. It features most of the Stooges' trademark sound effects and phrases and with its faux big-band swing sounds, is the furthest thing from a lasting, compelling pop song.
Read the Curly Shuffle lyrics
No, it's not a great song. But it is a fun little slice of nostalgia.
Sadly, Jump 'N the Saddle Band were unable to capitalize on their "Curly Shuffle" success with a follow-up hit. In my opinion, they should have gone all-in with the novelty song concept and released a record that featured the following hits:
The Marx Brothers Samba
The Laurel and Hardy Rumba
The Abbott and Costello Bossa Nova
The Cheech and Chong Cabaret
The Gene Wilder and Richard Pryor Polka
Imagine the outright awesomeness that would be unleashed with such a record.
Listen to The Curly Shuffle
Buy The Curly Shuffle
Filed under: 1980s, Pop · Tags: 1984, 1984 1 hit wonder, 1984 one-hit wonder, Buckner and Garcia, Disco Duck, Focus, Hocus Pocus, novelty hit, novelty song, Pac Man Fever, Ray Stevens, Rick Dees, The Streak