» 1980s, Pop » Tane Cain – Holdin' On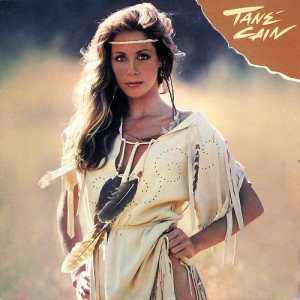 Today's one-hit wonder is another example of marriage helping result in a Billboard Top 40 hit. Tane Cain was a journey-woman singer with middling success in Los Angeles and San Francisco-based bands. It was her marriage to Jonathan Cain that helped her secure a solo record deal back in 1982 and her only Top 40 hit.
While you may not know Jonathan Cain's name, I'm willing to bet you a dozen bagels you recognize his keyboard work and songwriting. Let me drop a few Johnathan Cain song titles here "Open Arms," "Faithfully," "Separate Ways," and the grand-daddy of them all, "Don't Stop Believing."
The common denominator here is Journey where Jonathan Cain has written chart-topping, arena-filling songs since 1981 when he joined the band.
Yet Cain's recording credits don't begin there; he was also a member of The Babys who you may remember for "Every Time I Think of You" featuring singer John Waite.
John Waite, I'm sure you remember, had a #1 Billboard hit with "Missing You" in 1984. Plus, during a hiatus from Journey, Cain re-joined Waite in Bad English who recorded the #1 hit "When I See You Smile" on their debut album, which also featured guitarist Neil Schon of Journey.
Are you starting to detect a hit-song, Journey-based theme here?
Johnathan Cain has serious pop chops and RCA Records hoped some of his chops would translate into chart success for his wife, Tane Cain.
They did–in a limited manner. Cain recorded her self-titled debut in 1982 and the second single, "Holdin' On," reached #37 on the Billboard Top 40, making Cain a one-hit wonder. Since the album flopped and only a limited number of people remember "Holdin' On" today, that record remains Tane Cain's only solo album, though she released a few songs on the soundtrack to the first Terminator movie in 1984. Award yourself bonus points if you remember Tahnee Cain & Tryanglz.
Listen to Holdin' On by Tane Cain
When I listen to "Holdin' On" I hear a heavy dose of Pat Benatar, who was at the peak of her popularity between 1980 and 1984. Cain never liked the comparison, but it's hard not to connect the dots.
As for "Holdin' On" itself, it's a largely forgettable song that quickly goes in one ear and out the other. She hits all the right notes. She sounds tough, to a certain extent. The guitar bounces along with heavily chorused leads chiming in now and then. But I suspect 10 minutes after you listen you'll have a hard time recalling much more than the chorus.
Regardless, Cain did hit the Top 40 once, and for that, she deserves respect. Songwriter and ex-husband, Jonathan Cain, however, deserves even more.
And here's a bonus marriage one-hit wonder connection for you: "How Do I Survive" by Amy Holland was produced by Holland's soon-to-be husband, ex-Doobie Brother, Michael McDonald. More proof that it's not what you know, but who you know.
Hear: "How Do I Survive" by Amy Holland
Buy Holding On by Tane Cain
Bonus Songs
Filed under: 1980s, Pop · Tags: 1980s one hit wonder, 1982 1 hit wonder, 1982 one hit wonder, John Waite, Jonathan Cain, Journey, Pat Benetar, Tane Cain