» 1980s, Pop » Take Off – Bob and Doug McKenzie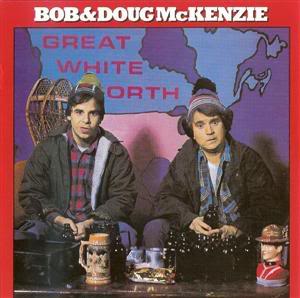 In 1982, Rush was riding high (at least among Canadian bands). Moving Pictures had sold millions of records and Signals would soon reach stores and turn Rush into a one-hit wonder with their one and only top 40-charting song "New World Man."
For a couple of Canadian comedians, there was no better better choice than to have fellow Canadian and Rush lead singer Geddy Lee sing on Bob and Doug McKenzie's hit single, "Take Off." A song that reached #16 on the Billboard Hot 100 in March 1982.
Click to listen to more Canadian one-hit wonders
We're guessing that since you somehow found this page, you likely remember Bob and Doug McKenzie. But in case you don't, the McKenzie brothers' shtick started on the Canadian version of Saturday Night Live called SCTV. When it moved to CBS in 1982, the network asked Bob McKenzie (Rick Moranis who became famous for the Honey I Shrunk the Kids and Ghostbusers movies) and Doug McKenzie (Dave Thomas who became famous for, um, playing Doug McKenzie on SCTV) to riff on Canadian stereotypes. Amazingly, both Canadians and Americans found jokes about "hosers" and "tuques" funny.
Click to hear more TV show one-hit wonders
Bob and Doug broadcast from "The Great White North." As a shock to everyone involved with the export of SCTV to America, "The Great White North" segment with Bob and Doug became the more popular segment on an otherwise marginally funny sketch comedy show. So popular, in fact, that the McKenzie brothers even starred in their own feature film, Strange Brew. I have fond memories of the movie but haven't seen it for years so it could be awful for all I remember.
The McKenzie brothers even contributed their own catchphrase in "Take off." Or "Take off you hoser." Serious highbrow humor there. But there wasn't a junior high boy in the early 1980s that didn't tell his buddies to "take off" at least 65 times each day.
The catchphrase led to a single, which led to Geddy Lee singing:
Take off
To the Great White North
Take off
It's a beauty way to go
Take off
And the rest is one-hit wonder history.
Listen to "Take Off" by Bob and Doug McKenzie
Take Off - Bob and Doug McKenzie
Buy "Take Off" by Bob and Doug McKenzie
Filed under: 1980s, Pop · Tags: 1982, Bob and Doug McKenzie, Canada, Canadian band, Canadian one-hit wonder, funny, Geddy Lee, novelty hit, novelty song, one hit wonder, Pop, Rick Moranis, Rush, TV show one hit wonder