» 1980s, Pop » So Alive – Love and Rockets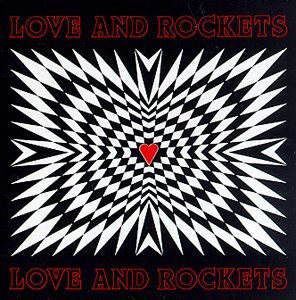 Twenty-one years ago today (August 5, 1989), the biggest hit by Love and Rockets peaked at number 3 on the Billboard Hot 100. That song was the classic alternative pop song titled "So Alive." If you followed Love and Rockets (and their preceding band Bauhaus) in the 1980s, the last place you expected them to appear was the Top 40. But the planets aligned and songwriter Daniel Ash finally nailed his one and only top 40 hit.
Love and Rockets formed from the remnants of Bauhaus in 1985 when Peter Murphy left for a widely diverse and sometimes successful solo career (his 1990 hit "Cuts You Up" reached #55 on the Billboard Hot 100 but was a number 1 smash on the Modern Rock charts). Former Bauhaus members include Daniel Ash (guitars, saxophone, and vocals), David J (bass and vocals) and Kevin Haskins (drums and synthesizers).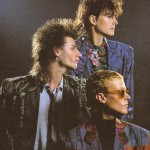 Although Peter Murphy is known in some circles as "The Godfather of Goth" for his work with Bauhaus (Robert Smith of The Cure might disagree: Listen to 10:15 Saturday Night to hear The Cure's early take on gloom and doom), his bandmates traded in their dismal dirges for more sunny fare. Their first minor hit was a cover of "Ball of Confusion" by The Temptations (later covered by Duran Duran) and their 1987 record Earth, Sun, Moon had an almost folky sound with its big hit, "No New Tale to Tell."
Although the band toured through 1989 to support their surprise hit, they were burned out and went on hiatus for two years before returning to the studio and recording an electronic-sounding album that record company RCA hated. As you might expect, the label wanted "So Alive" part II. Another alternative one-hit wonder wasn't in the works.
Listen to "So Alive"
So Alive - Love and Rockets
Love and Rockets and Bauhaus have reformed and reunited many times. In a June 2009 interview, Ash clearly stated he has no plans to play with Love and Rockets again.
"We've worked together since 1980. I really want to work with new people, I'm sure everybody feels the same."
Are they finished for good or do they have another hit on their hands? Time will tell. Any artists that can drop an enduring gloom-fest in "Bela Lugosi's Dead" and then follow up years later with the cheery "So Alive" get high style points in MY book.
Listen to So Alive by Love and Rockets
Listen to Bela Lugosi's Dead by Bauhaus
Buy So Alive by Love and Rockets
Filed under: 1980s, Pop · Tags: 1989, Alternative Rock, Bauhaus, Bela Lugosi's Dead, Daniel Ash, goth, Love and Rockets, New Wave, Peter Murphy, So Alive, The Cure