» 1980s, Pop » She Works Hard for the Money – Donna Summer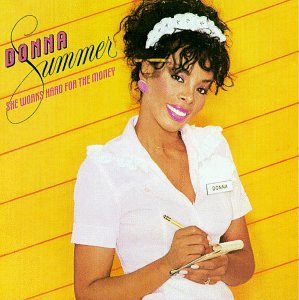 Editor's note: Donna Summer is no one-hit wonder artist. She has all kinds of hits. Sometimes I just write about a song that is in my head.
A true earworm. "She Works Hard for the Money" by Donna Summer has been in my head for two days now. Make it stop!
With its classic early '80s synthesizer and memorable hook, there's good reason this song quickly climbed to #3 on the Billboard charts. The inspiration for the song? Donna met a worker in a women's restroom who was "working hard for the money."
You don't find many more inspirational or glamorous stories in the history of music than that one.
Enjoy this video from 1983. Best part is the guy with the yellow shorts, white tanktop, white hat and kneepads. You can't beat the 1980s for distinctive, er, fashion (is that what you call that?).
Listen to She Works Hard for the Money by Donna Summer
Filed under: 1980s, Pop · Tags: 1983, Donna Summer, She Works Hard for the Money