» 1970s, Pop » Rock On – David Essex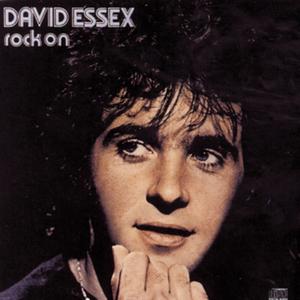 You know your song has made an impact when a band like R.E.M. song-checks your lyrics and melody in one of their biggest hits, "Drive" from Automatic for the People.
Frankly, I'm a little surprised the song has become such an enduring hit. It definitely doesn't rock in terms of how you would expect a song with a title like "Rock On" to, well, rock.
It's slow. It's mysterious. It barely features any guitar, instead emphasizing a killer lilting bass line and lots of echo effects on Essex's voice.
The solo is a mix of, wait for it, violin, flute and trumpet.
Is this rock 'n' roll or Burt Bacharach?
Maybe the drums rock out, you inquire.
Nope, unless you consider a little shaker, maraca and a few well-placed drum fills a rockin' back beat.
Listen to Rock On by David Essex
http://youtu.be/NgcYfKw0_TI
But "Rock On" by David Essex reached #5 on the Billboard Top 40 in 1974 making David Essex a one-hit wonder. The song lives on and is known by most rock fans, even though they couldn't name another David Essex song even if you threatened their lives with a lifetime of watching The Exorcist or listening to "Tubular Bells" by Mike Oldfield (the instrumental one-hit wonder theme song from The Exorcist from 1974).
Click to hear more instrumental one-hit wonders
Doesn't matter much. David Essex deserves a spot in the one-hit wonder hall of fame for having a song most people can sing at least the first line without having any idea of the artist's name.
Such is the blessing and curse of the one-hit wonder artist.
On the other hand, if you consider Essex's British chart success, he is about as far removed from a one-hit wonder as you can get. He has placed 18 singles in the British Top 40 and also boasts three Top 10 albums in U.K. as well. So I'll call Essex a British one-hit wonder (at least on the American charts), but he can hold his head high just about anywhere he goes. After all, you're singing the first line of "Rock On" in your head right now, aren't you? Case closed.
Click to hear more British one-hit wonders
Buy Rock On by David Essex
Filed under: 1970s, Pop · Tags: 1974, British, British one-hit wonder, David Essex, Mike Oldfield, R.E.M., Rock On, Tubular Bells