» 1980s, Pop » Respect Yourself – Bruce Willis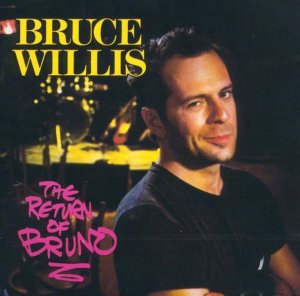 It's easy to forget that big-screen icon Bruce Willis once fancied himself a rhythm and blues singer. But he did. And under the moniker "Bruno" he delivered a debut album cleverly titled The Return of Bruno (see how he did that? Made buyers think they missed Introducing Bruno).
We'll add Willis to our growing list of actors-turned-singers-turned-actors. Or maybe it should be singers-turned-actors-turned-singers-turned-one-hit wonders.
Let's not argue semantics here. Celebrity crossover worked for David Soul (Hutch from Starsky and Hutch) in 1977 when "Don't Give Up on Us" hit #1 on the Billboard Top 40. John Schneider turned his Dukes of Hazzard fame into a #14 Billboard Top 40 crossover hit with "It's Now Or Never" in 1981. So you can't blame Willis for taking a shot as well. His effort was good enough to land "Respect Yourself" at #5 on the Billboard Hot 100.
Click to read Respect Yourself lyrics
"Respect Yourself" is a great song, first made famous in 1971 by The Staple Singers. That song is stone-cold awesome soul music. Rolling Stone named it #462 on their list of the 500 Greatest Songs of All Time. We agree, though we would place it at #461 instead.
Bruce's version is best when Bruce isn't singing. That's not really a knock on Bruce; he's a wonderfully compelling and enjoyable actor. Did we mention he's an actor? In fact, he had such good sense as an actor that he had singer June Pointer of The Pointer Sisters take a few verses herself. And that's where "Respect Yourself" really shines.
Willis, of course, went on to major fame and fortune with virtually everything he touched turning to box-office gold. Given his seemingly good nature and ability to laugh at himself when you see intervied on TV talk shows, we're pretty certain he embraces his one-hit wonder musician status. C'mon, the man has an Emmy Award, a Golden Globe Award, a Hasty Pudding Award and a star on the Hollywood Walk of Fame. A Grammy Award eluded Bruce, but we're certain he's just fine with that.
Bruce, we respect you.
Listen to "Respect Yourself"
bruce-willis-Respect Yourself.mp3
Watch Respect Yourself by Bruce Willis
Filed under: 1980s, Pop · Tags: 1987, actor, Bruce Willis, David Soul, Dukes of Hazzard, John Schneider, one hit wonder, rhythm and blues, Starsky and Hutch, The Staple Singers