» 1980s, Pop » Perfect Way – Scritti Politti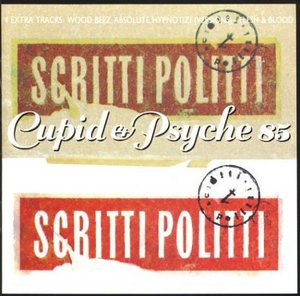 Cupid & Psyche 85 is one of the most exceptional records produced in the 1980s. That's one big claim, I realize. But the production on that LP is amazingly deep, soulful and funky. If you appreciate great production values and relentless hooks in a synthpop package, spin this record.
"Perfect Way" is the big American hit. A song so bouncy and joyous, it reached #11 on the Billboard Top 40 in 1985 transforming Scritti Politti into a one-hit wonder.
Listen to the song. Then wrap your brain around this bit of trivia: Scritti Politti leader and singer Green Gartside from England toured with post-punk pioneers Gang of Four and Joy Division in 1981. Nothing either of those bands ever recorded sounds even remotely similar to "Perfect Way" by Scritti Politti. Then again, Scritti Politti's 1981 music didn't sound anything like "Perfect Way" at that time either.
Call it evolution.
Call it brilliance.
Call it a perfectly timed and produced new wave gem.
Whatever you call it, do yourself a favor and listen to the entire Cupid & Psyche 85 record at least one time in your life.
Listen to "Perfect Way" by Scritti Politti
At least listen to "Perfect Way." Then move along until you've heard "Absolute," "Wood Beez" and "Hypnotize" as well.
Each of them are a virtual time machine of 1984-1985 production themes. Moog bass lines. Roland and Korg synthesizers. Synthesized strings. And Gartside's breathy delivery on top of it all.
It's pure, sugary, synthpop, gummy goodness. Sticky sweet songs that remain distinctive in their own perfect way.
Click to hear more synthpop one-hit wonders
I'm serious, if you like synthpop music by bands like Depeche Mode, Howard Jones, Thompson Twins, Yaz and Erasure, listen to Cupid & Psyche 85.
Brilliance.
Filed under: 1980s, Pop · Tags: 1985, British band, British one-hit wonder, Green Gartside, New Wave, Perfect Way, Scritti Politti, synthesizer, Synthpop