» 1980s, Pop » Pac-Man Fever – Buckner and Garcia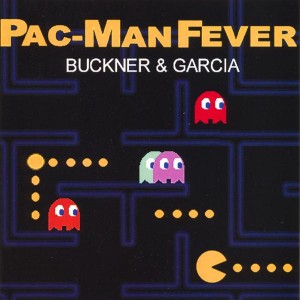 Somewhere between writing the great American novel and painting a masterpiece comes writing a novelty hit that people love for about three weeks, then curse for the rest of your existence.
Vanilla Ice experienced the wrath for "Ice, Ice Baby."
Gerardo experienced the wrath for unleashing "Rico Suave" in 1991.
Buckner and Garcia enjoy that distinction for sharing "Pac-Man Fever" with a video-game obsessed world in 1982.
However, unlike Vanilla Ice and Gerardo's songs, some people still fondly remember "Pac-Man Fever." It takes them back to the early arcades with the original version of classic games like Space Invaders, Asteroids, Defender and Battlezone.
And among the greats has to be Pac Man. That simple little game where you control the colored Pac-Man and eat little Pac-dots while the four ghosts chase you appealed to boys and girls–a unique phenomenon in early '80s video gaming. And soon, millions of dollars were spent, one quarter at a time, as kids lined up to play Pac-Man and its sister game, Ms. Pac-Man.
No songwriter ever says "When I grow up I'm going to be famous for a novelty hit." But that's exactly what Jerry Buckner and Gary Garcia (any coincidence to Jerry Garcia is purely coincidental) did. They saw the trend, they wrote the song, and soon "Pac-Man Fever" reached #9 on the Billboard Hot 100 in March 1982.
As you might expect, Buckner and Garcia never wanted to be known for a song as silly as "Pac-Man Fever." But as the royalty checks piled up, I'm sure they grew more comfortable with the idea.
Nearly 30 years later, "Pac-Man Fever" is rarely heard on the radio or even on '80s party mixes. But it's a classic and we salute Buckner and Garcia for this classic novelty one-hit wonder.
Listen to "Pac-Man Fever" by Buckner and Garcia
http://youtu.be/kBdAPkk8yMM
Buy "Pac-Man Fever" by Buckner and Garcia
Filed under: 1980s, Pop · Tags: 1982, Buckner and Garcia, funny, novelty hit, novelty song, one hit wonder, Pac Man Fever, pac-man, Pop, video game song