» 1980s, Pop » One in a Million You – Larry Graham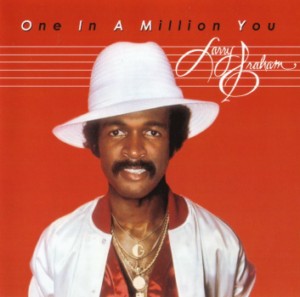 Ready for an obscure and forgotten one-hit wonder that reached the Billboard Top 10 in 1980?
I give you "One in a Million You" by Larry Graham.
Remember it?
Dig deep. Search your inner soul.
If you're drawing a blank, you're not alone. I don't know that any soft rock station in America plays "One in a Million You" anymore.
But in 1980, Larry Graham was enjoying success as a smooth-singing solo artist. In my mind, he deserved it for his contributions to the rock 'n' roll and pop world with Sly and the Family Stone in the late 1960s and early 1970s.
That's Larry popping and slapping the bass on classic Sly Stone songs like "Everyday People" and "Stand" and "Dance to the Music" (you may remember a cover version of that one from Shrek. In fact, it's Graham singing "I'm gonna add some bottom/so the dancers just won't hide.")
His playing landed him on many Top 50 and Top 100 lists of the all-time greatest bass players. The man is not just a player; he's an influencer.
That influence also appears on "Pump Up the Volume" by MARRS from 1988. Classic stuff, there.
But that was another era and Graham left the Family Stone in 1972 to create Graham Central Station, who charted multiple times and whose biggest hit was "Your Love" when it reached #9 on the Billboard Top 40 in 1975.
Graham went solo and released his first record titled One in a Million You in 1980. The single, "One in a Million You" reached #9 on the Billboard Top 40 in 1980 making Larry Graham a one-hit wonder. A legendary, soulful one-hit wonder.
But I'm not gonna lie. "One in a Million You" isn't his best work. Not even close. In fact, it's pretty forgettable. But it hit the Top 10 and for that, I'll always be impressed–though I'll listen to my Sly Stone records much more often than this one-hit wonder ballad.
Click to hear more one-hit wonder ballads
Listen to One in a Million You by Larry Graham
(video may no play on iPad or iPod but works on your computer)

Buy One in a Million You by Larry Graham
Filed under: 1980s, Pop · Tags: 1980, ballad, bass player, forgotten one-hit wonder, Graham Central Station, Larry Graham, Marrs, one hit wonder love song, one hit wonder of the 1980s, One in a Million You, one-hit wonder ballad, Pump Up the Volume, Sly and the Family Stone, Soul