» 1970s, 1980s, Pop » One-Hit Wonder Promoter Dick Clark Dead at 82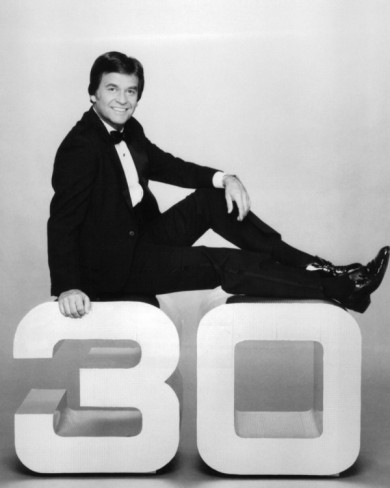 Dick Clark died today after suffering a heart attack following a routine outpatient treatment at a Los Angeles hospital.
It's hard to calculate and quantify the number of one-hit wonder bands and artists Dick Clark featured on American Bandstand during its 30-year run between 1957 and 1987.
Virtually every American band (and many non-American bands) who found a place on the Billboard Top 40 appeared on American Bandstand.
YouTube is filled with American Bandstand videos from one-hit artists like Anita Ward ("Ring My Bell"), Buckner and Garcia ("Pac-Man Fever"), Haircut 100 ("Love Plus One"), Devo ("Whip It") and hundreds more from the 1970s and 1960s.
The show was influenced by popular culture and directly influenced popular culture in return. And at the center of the show was Dick Clark, a man who never seemed to age and who was an ideal foil for his audience who never seemed to age either.
American Bandstand wasn't known for cutting-edge music; it was known for giving currently popular artists a shot at the spotlight.
In some cases, major artists like Aretha Franklin made multiple appearances. But my favorites were always the here-today-gone-tomorrow one-hit wonders who graced the Bandstand stage.
Rock legend or new kid on the block, Dick Clark treated all artists equally, offering a chance to lip-sync their song on stage or, in rare instances with artists like Al Green, Marvin Gaye and Aretha, allow them to sing live.
The kids didn't care; they just wanted to dance. And Dick Clark just wanted to promote. Sure, if he made a few bucks in the process, everyone came out ahead.
Clark made plenty of money and his enterprises helped launch the careers of artists who had decades-long careers (see Aretha Franklin and "Rock Steady") or who were novelty acts destined for one-hit wonder status (see Rick Dees and "Disco Duck.")
Clark suffered a stroke in 2004 and also suffered from diabetes. His passing today is met with tributes, accolades and fond remembrances.
As a kid who grew up watching American Bandstand on Saturday mornings, Dick Clark and Casey Kasem were the gateway to this drug we all know as music.
I can't thank him enough.
Rest in peace, Dick Clark.
Watch the Best of American Bandstand
Filed under: 1970s, 1980s, Pop · Tags: American Bandstand, Anita Ward, Aretha Franklin, Buckner and Garcia, Devo, Dick Clark, Haircut 100, Love Plus One, Pac Man Fever, Rest in peace, Ring My Bell, RIP, Rock Steady, Whip It