» 1970s, Pop » Music Box Dancer – Frank Mills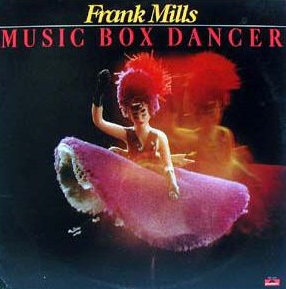 Every year, thousands of kids start piano lessons. The first lesson begins with great enthusiasm. Then the teacher throws a little theory, a few sharps and flats the student's way, and the battles begin.
Battles to perfectly master the music if you're mom happens to be a Tiger Mom or former concert pianist.
Battles to convince a parent that "piano is too hard" or "piano is too boring."
Battles to convince a parent that football or basketball or dance or art classes or soccer or pep club or smoking cigarettes behind the junior high cafeteria are all far nobler pursuits than playing a C-minor scale again or learning "Claire de Lune" for the stupid spring recital.
Somewhere along the way, parents or students give in and only a rare few pass through the after-school or early-morning practice gauntlet to emerge as the rarest of all things: a pianist.
But the one-hit wonder world is filled with some very good pianists who either became synthpop artists like Gary Numan and "Cars" or Thomas Dolby and "She Blinded Me with Science" or serious acoustic technicians like Marc Cohn who made the piano sing on "Walking in Memphis" or David Foster who used the piano as the backbone to multiple hits by Chicago and on his own instrumental one-hit wonder, "The Love Theme from St. Elsewhere."
These artists rode piano lessons to Billboard chart success and along the way became household names with long-running careers.
Click to hear more instrumental one-hit wonders
Then there is Frank Mills and "Music Box Dancer." His influence on young pianists who came of age in the early 1980s is as important as Michael Jordan's influence on kids who wore long shorts to their YMCA youth basketball game as they emulated their hero.
Every kid learned "Music Box Dancer" at some point in their short or long music career. In the 1980s, it was piano equivalent of Zeppelin's "Stairway to Heaven." Every piano player knew at least a few bars or the opening lines. In fact, the sheet music to "Music Box Dancer" sold more than 3 million copies. Pretty amazing for a song that was released in 1974 but became a hit in 1979.
Listen to Music Box Dancer by Frank Mills
Years later, the influence of Frank Mills is lost on young pianists. But I'll always remember the opening strains of this hit because I was one of those kids who never mastered the entire song, but can still bust out the first few lines upon request.
It was kids like me who helped "Music Box Dancer" by Frank Mills reach #3 on the Billboard Top 40 in 1979, making Frank Mills a one-hit wonder and a piano legend in the minds of countless 12-year-old girls and boys who were forced to play piano when they would have much rather been playing soccer or dress ups or hanging out at the mall or watching videos on MTV.
Buy Music Box Dancer by Frank Mills
Filed under: 1970s, Pop · Tags: 1979, Cars, David Foster, Frank Mills, Gary Numan, Instrumental, instrumental one hit wonder, Love Theme from St. Elmo's Fire, Marc Cohn, Music Box Dancer, She Blinded me with science, Thomas Dolby, Walking in Memphis