» 1970s, Pop » Movin' – Brass Construction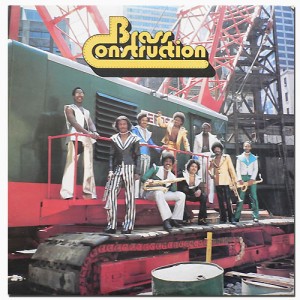 Disco is the greatest form of music in really tiny doses. Or the most disposable.
A song like "Movin'" by Brass Construction is exhibit A in that argument.
When people first heard this song on the dance floors of disco clubs, they lapped it up like a starving kitten snarfs Meow Mix.
Then they let it settle in, percolate a bit, and discovered they liked it. A lot.
Movin' by Brass Construction reached #14 on the Billboard Top 40 in 1976 making Brass Construction a one-hit wonder. Not bad for a band who started playing together in 1968 but didn't reach the Billboard Top 40 until 1976 when disco was just lighting up dance floors.
Click to hear more disco one-hit wonders
Listen to Movin' by Brass Construction
http://youtu.be/e5mo7TCVQJM
Now here's the strange thing. Although "Movin'" was a legitimate hit and dance floor anthem, it's completely forgotten today. Seriously, step up if you're a Brass Construction fan and have heard this song anywhere outside your CD, 8-track or vinyl collection in the last 20 years.
This song is disposable and easily forgotten.
In fact, it's a forgotten one-hit wonder and, if you ignore the minimal singing, you can almost peg it as an instrumental one-hit wonder as well.
Click to hear more instrumental one-hit wonders
As for my ears, I've heard enough. I'll be movin' along myself now.
Buy Movin' by Brass Construction
The Best of Brass Construction-Movin' & Changin' – Brass Construction
Filed under: 1970s, Pop · Tags: 1970s 1 hit wonder, 1970s one hit wonder, 1976, 1976 one hit wonder, Brass Construction, dance music, disco, disco one hit wonder, forgotten one-hit wonder, funk, Instrumental, instrumental one hit wonder, Movin', Moving