» 1980s, Pop » More Than Just the Two of Us – Sneaker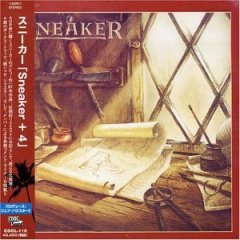 Sweaty hands. Awkward comments. Rapidly beating heart. Insecurity about your clothes and haircut. I remember junior high well. Trying to be "cool" was virtually impossible for most seventh graders–especially while dancing with a boy or girl you liked.
It was even worse when a sensitive ballad was gently wofting from the speakers. It didn't matter if you were listening to "Don't Give Up On Us" by David Soul, "You Light Up My Life" by Debby Boone, "I've Never Been to Me" by Charlene, or "Yes I'm Ready" by Teri Desario. They were all big hits and turned their singers and songwriters into one-hit wonders.
No shame in that, I always say. Who says you have to rock to make an impact?
Today's one-hit wonder ballad comes form California-based band Sneaker. To my ears, it sounds like Toto meets Pablo Cruise meets Orleans meets Firefall meets Ambrosia meets Christopher Cross. That combination was lethal because everyone of those aforementioned bands have buckets full of Top 40 hits, and nearly all of the biggest hits are ballads.
"More Than Just the Two of Us" was perfect for the era. Piano and the piano-playing singer take center stage. The bass player and guitarist weigh in with perfectly modulated harmonies in the chorus. If you were in junior high school in 1982, there's a chance you danced a bear-hug, slow dance with the cutest girl or boy in the school while "More Than Just the Two of Us" floated gently from the speakers.
Click to read "More than Just the Two of Us" lyrics
"More than Just the Two of Us" reached #34 on the Billboard Hot 100 in early 1982 making the band one-hit wonders. Sneaker made a small smash in America and an even bigger impact in Japan (so did Toto). They broke up soon afterwards and they're largely forgotten today. So, between the two of us, I'm bringing them back.
Listen to "More than Just the Two of Us"
Buy this hard-to-find song from Amazon.com
Filed under: 1980s, Pop · Tags: 1982, ballad, Charlene, David Soul, Debby Boone, forgotten one-hit wonder, one hit wonder love song, one-hit wonder ballad, Sneaker, Teri Desario