» 1980s, Pop » Mickey – Toni Basil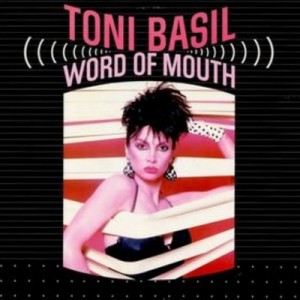 Some songs simply scream out: "I'm a one-hit wonder."
"Mickey" by Toni Basil is one of those songs. I remember the first time I heard "Mickey" back in the 1980s. I was pretty sure it was sung by the University of Southern California's cheer-leading team. USC's marching band backed up Fleetwood Mac on "Tusk" in 1979. So it made perfect sense that the cheerleaders wanted to get into the game and "Mickey" was the perfect vehicle.
I was wrong. Way wrong.
Instead, I saw the video of Toni Basil wearing a cheerleader outfit (her actual outfit from her days as a cheerleader at Las Vegas High School) and realized I was watching a brilliantly choreographed fusion of dance, cheer-leading and a ridiculously memorable lyrical hook that gets in your head and doesn't leave for days:
Oh Mickey, you're so fine
You're so fine you blow my mind
Hey Mickey
Hey Mickey
Listen to Mickey by Toni Basil
Click here to read Mickey lyrics
Although "Mickey" was recorded in 1980, it didn't hit airwaves until 1982 when then-fledgling MTV began airing the clip. It remains one of the most brilliant '80s videos. So brilliant, in fact, VH1 ranked "Mickey" Number 6 on its list of the 100 Greatest One Hit Wonders of the '80s.
Another interesting piece of trivia: Devo is the backing band for "Mickey." It all makes perfect sense, since Toni Basil and Devo bass player and founder Jerry Casale were romantically linked in the early 1980s. Listen to "Mickey" then listen to "Whip It" by Devo, yet another definitive early 1980s one-hit wonder. They sound remarkably alike musically and vocally. And both deservedly landed on the Billboard Top 40, ("Whip It" reached #14 in 1980 and "Mickey" landed at #1 in late 1982).
Two awesomely perfect 1980s one-hit wonders.
Click to hear other Billboard number-one hit one-hit wonders
Although "Mickey" represents Basil's only trip to the Top 40, she's had a long and amazingly impressive career that has scored her the following awards and honors:
"Mickey" was installed in the Rock & Roll Hall of Fame as one of the groundbreaking singles of the 1980's
Platinum and Gold Discs in the USA, United Kingdom, Australia, Canada, Philippines, and France
Hip Hop International's Living Legend Award
Grammy nomination for Long Form Video ("Word Of Mouth") 1983
Emmy nomination and win for Outstanding Achievement in Choreography / The Smothers Brothers 1988
Two MTV Award nominations
American Choreography Awards: Four nominations & Two Wins including Lifetime Achievement Innovator
The Los Angeles Theater Ovation: Street Dance Award
Exhibitions include the Museum of Modern Art: videos and the Santa Monica Museum of Art
Consider me impressed.
Buy Mickey by Toni Basil
Filed under: 1980s, Pop · Tags: #1, #1 hit, #1 song, 1982, Billboard number one hit, Devo, Greatest one hit wonders of the 80s, Mickey, MTV, novelty hit, novelty song, number one song, Toni Basil, VH1, Whip It