» 1970s, Pop » Magic – Pilot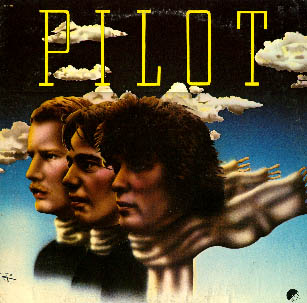 This is a tremendous one-hit wonder if you like power pop bands like The Raspberries, Big Star or 1990s rock from Jellyfish or New Radicals.
Pilot produces bubblegum rock that is so tasty, you can listen to "Magic" until your teeth crack from an overdose of sugar.
There are many things to love about "Magic" by Pilot. Let me rattle off a few.
First, the song starts as if it's really going to rock. No, you don't expect Led Zeppelin. But the first 12 seconds gear you up for a guitar-driven rock tune. Then it changes. Suddenly.
Now, you hear the lead singer and the piano belt out the memorable chorus
Oh, ho, ho, it's Magic
Never believe it's not so
It's Magic, you know
Never believe it's not so
As the song builds, you hear a bunch of la-la-la-las in the background. It's a Beatle-esque trick and one that is absolutely perfect for the style. Frankly, I can never get enough la-la-las in my daily diet.
After a few verses and choruses, you get a guitar solo that features a classic rock trademark with TWO guitarists playing a harmonic solo. Love it.
When the second guitar drops out, rapid hand claps join in. Another nod to The Beatles and another perfect touch for a nearly perfect pop song. I'm not sure I can ever hear too many hand-claps in the background during a guitar solo.
Listen to "Magic" by Pilot
"Magic" ebbs and flows by speeding up and slowing down, by adding harmonies and taking them away. By bathing your ears in a sonic stew of 1970s and 1960s production techniques that make this song simply magic.
"Magic" by Pilot reached #5 on the Billboard Top 40 in 1975 making Pilot a one-hit wonder.
I don't think I'll ever get tired of "Magic." It's on my short list of the greatest one-hit wonders of all time.
Even more remarkable to my ears, is that Pilot is yet another exceptional Scottish band, which makes them a Scottish one-hit wonder. Not sure what it is about Scottish bands, but I love nearly every Scottish band I've ever heard.
One last thing: I'm ignoring Selena Gomez's version of "Magic." It simply doesn't compare to the original.
Buy "Magic" by Pilot
Filed under: 1970s, Pop · Tags: Bay City Rollers, Bubblegum Hit, bubblegum music, Bubblegum Rock, Magic, Pilot, Power Pop, Powerpop, Scottish, Scottish bands, Scottish one-hit wonder