» 1960s, 1970s, Pop » MacArthur Park – Richard Harris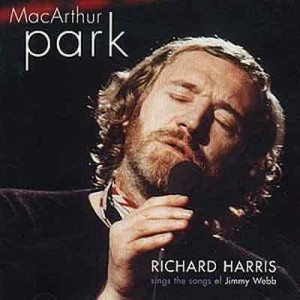 EDITOR'S NOTE: "Three Little Pigs" by Green Jelly was Jim Barton's last foray into the world of heavy metal one-hit wonders. But did you think he would go gently into that good night? Sorry, no such luck.:) From time to time he will continue his contributions and adding to the wacky and wonderful world of One-Hit Wonders, starting with this famous song, "MacArthur Park," by Richard Harris.
A most delightful little book that should be on every music fan's shelf is Dave Barry's Book of Bad Songs. In it, the humorist expands upon a 1992 column lamenting the lack of good songs on the radio. The ensuing onslaught of mail from his readers begat more columns on the subject and eventually Barry's own "Bad Song Survey." The response was overwhelming, and to make a long story short, "MacArthur Park" by Richard Harris with its length (some seven minutes), pretentious vocals, overblown arrangement and infamously silly lyric about a storm-drenched dessert, was voted "Worst Song of All Time" by Barry's readers, even beating out such dreck as "(You're) Having my Baby" (Paul Anka and Odia Coates).
But even after the survey, the avalanche of mail continued, and the dust still had not settled when his Book of Bad Songs came out in 1997.
Listen to "MacArthur Park" by Richard Harris
As for the song about the rain, the park and other things, namely that waterlogged cake: "MacArthur Park" was written by legendary songwriter Jimmy Webb who you may know for "By the Time I Get to Phoenix," "Up Up and Away," "Wichita Linesman, "Galveston" and many other songs.
"MacArthur Park" was first offered to The Association. The group was less than interested, but the late actor Richard Harris loved it dearly and recorded it. Harris was known much more for his acting than his singing. Older readers will know him for his turn as King Arthur in the 1967 film version of Camelot while younger reader know Harris as Albus Dumbledore in the first two Harry Potter films.
Despite its length, "MacArthur Park" was a huge hit, reaching number 2 on the Billboard Top 40 in 1968, making Richard Harris a one-hit wonder.
Although it was Richard Harris's lone Top 40 hit, the song itself seemingly has more lives than a cat: The Four Tops reached Number 38 with it in 1971, and Donna Summer's first number 1 hit was a "disco-fied" version in 1978, making "MacArthur Park" one of a handful of Number 2 songs that would later see remakes hit Number 1 (others were "I Heard it Through the Grapevine" and "Can't Help Falling in Love").
One suspects a rap version of "MacArthur Park" is imminent.
What's your take? Is "MacArthur Park" the worst song ever?
We'll add it to our list of the worst one-hit wonders but the song does retain a certain goofy charm.
READ: More of the Worst One-Hit Wonders
Listen to MacArthur Park by Donna Summer
Filed under: 1960s, 1970s, Pop · Tags: 1960s 1 hit wonder, 1960s one hit wonder, 1968 one hit wonder, Dave Barry Worst Song Ever, Donna Summer, MacArthur Park, Richard Harris, worst one hit wonders, worst song ever