» 1970s, Pop » Ma Belle Amie – Tee Set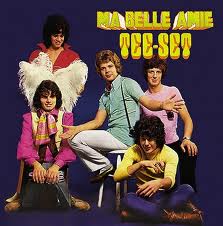 This article was inspired when I heard this song on the car radio–for the first time in over 40 years!
Despite the long gap since I had heard this tune, the "Ma Belle Amie" refrain still rang a bell, so to speak, and I decided to look it up in my old 1994 "car copy" of Joel Whitburn's "Top Pop Singles" book when I got home. But the kicker was yet to come: Less than ten minutes later, as I was pulling into the driveway, the song came on the car radio AGAIN on another station! How crazy is that?!
I quickly grabbed the old Joel Whitburn book (a volume so beat-up, battered and USED that by the time I finally got the 2011 edition for my home, the old copy was literally torn in two and I had to use "The Handyman's Secret Weapon" [duct tape] to piece it together before it became my car copy) and learned about this long-forgotten one-hit wonder.
But enough prologue; on with song.
Tee Set was not a band formed by golf-club-throwing hackers when they weren't drowning golf balls in water hazards or slicing them into the woods (such a group could be called The Tee'd Off), but rather a band from Delft, The Netherlands (a town famous for ceramics in a distinctive blue color called "Delft blue").
Formed in 1966, Tee Set released "Ma Belle Amie" back in 1969 and sold over 100,000 copies of the song in the Netherlands. Smelling a "hit" with the song, the band's management released a U.S. album in 1970 and "Ma Belle Amie" slowly worked its way up the charts until it peaked at #5 and transformed the Dutch band into true-blue American one-hit wonders.
Listen to Ma Belle Amie by Tee Set
Tee Set was part of the so-called "Dutch Invasion" of the early 1970s, which started with "Venus" by Shocking Blue and also included Focus with the heavy-metal-meets-yodeling-epic "Hocus Pocus."
In reality, most of these Dutch bands became little more than a handful of forgotten one-hit-wonders (raise a glass to yourself if you've listened to Mouth and MacNeal's "How Do You Do?" lately?).
Golden Earring is perhaps the most famous Dutch band and the only one to notch two Top 40 hits  ("Radar Love" in 1974 and "The Twilight Zone" in 1983). They're arguably the only artist from that Dutch invasion that enjoys regular airplay these days.
But we still love Dutch one-hit wonders. In fact, Michael Waterman has compiled a list of the greatest Dutch one-hit wonders that is well worth your time.
Listen: Top 5 Dutch one-hit wonders
Filed under: 1970s, Pop · Tags: 1970 1 hit wonder, 1970 one hit wonder, Dutch one hit wonder, Dutch one-hit wonders, Focus, Hocus Pocus, Ma Belle Amie, Shocking Blue, Tee Set, Venus