» 1970s, Pop » Lovin' You – Minnie Riperton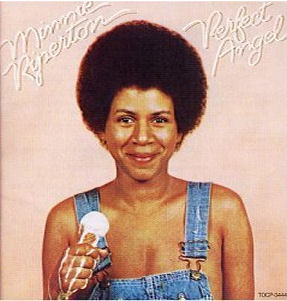 Mariah Carey has always received acclaim and adoration for her ability to sing high notes like a tiny little hummingbird. Either you like the sound or you don't.
Personally, I don't want to hear an album's worth of bird songs and that may explain why I've never purchased a Mariah Carey record.
Or a record full of bird songs.
Birds singing outside my window on a summer morning = good.
Birds chirping at the end of a pop song = bad.
If you're interested in hearing more of Mariah's ultra-high notes, listen to this clip of "Mariah's Highest Notes."
They're called "whistle notes." Few people can sing them. Even fewer sing them well.
Mariah does a good job. But the focus of today's one-hit wonder, the late, great Minnie Ripperton, does it even better.
Minnie is the original whistle note singer. At least as far as pop music is concerned. "Lovin' You" is chock full of whistle notes. And yes, chirping birds in the background. So you're getting the best of both worlds.
Some would argue either of them on their own are more than enough and combined in a song, it's way too much.
The American public disagreed since "Lovin' You" by Minnie Riperton reached #1 on the Billboard Top 40 in 1975 making Minnie Riperton a one-hit wonder.
The song has been used in seduction scenes and a Burger King TV ad. It's that versatile.
Sadly, Ripperton never had the chance to see her work widely celebrated since she died of cancer in 1979, just four years after she reached the top of the American pop charts.
Her five-and-a-half octave vocal range went with her. But whistle notes live on in artists like Mariah Carey, Christina Aguilera, Leonna Lewis and others.
Call me sentimental or just an ornithologist, but I'll always prefer Minnie's big voice and avian-like talent to the modern version of whistle singers.
And I still don't like the sound of birds on records. But I'll forgive it this time.
Listen to Lovin' You by Minnie Riperton
Filed under: 1970s, Pop · Tags: #1, #1 hit, #1 song, 1975, ballad, Billboard number one hit, Love Song, Mariah Carey, Minnie Ripperton, number one song, one-hit wonder ballad, R.I.P.