» 1970s, Pop » Love Jones – Brighter Side of Darkness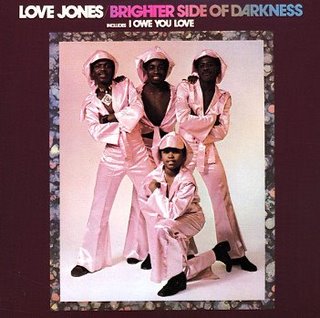 The curiously named Brighter Side of Darkness (whatever that means) started as a Chicago trio of high school students, including Randolph Murph, Ralph Eskridge and Larry Washington. Twelve-year-old Darryl Lamont was added a short time later; it was his voice that gave "Love Jones" its Jackson Five flavor and propelled the Brighter Side of Darkness's biggest song to number 16 on the Billboard Top 40 in 1973.
But soon there was a wholesale housecleaning of the group on the part of their record label and the ensuing legal battles quickly took away any momentum the group built up.
A new Brighter Side of Darkness featuring Tyrone Stewart recorded a handful of songs, but to no avail.
Still, "Love Jones" remains a lasting example of a soul one-hit wonder that sounds surprisingly good today.
Watch Brighter Side of Darkness perform "Love Jones" on Soul Train
Listen to the original version of "Love Jones" by Brighter Side of Darkness
Brighter Side of Darkness never lit up the Hot 100 again, but less than a year later, their one hit spawned a parody titled "Basketball Jones Featuring Tyrone Shoelaces" that became Cheech & Chong's first Billboard top 40 hit.
Quick trivia question: How many Top 40 hits did Cheech & Chong land in the Billboard Top 40?
Answer: Three. "Basketball Jones" hit number 15 in 1973, "Sister Mary Elephant" reached number 24 in 1973 and "Earache My Eye featuring Alice Bowie" topped out at number 9 in 1974.
"Basketball Jones…" even topped its predecessor by one notch, peaking at number 15 on the Top 40. The song parody featured a veritable who's who of music, including Carole King, Billy Preston and even George Harrison, among others.
Hear "Basketball Jones" by Cheech and Chong
Filed under: 1970s, Pop · Tags: 1973 1 hit wonder, 1973 one-hit wonder, Basketball Jones, Brighter Side of Darkness, Cheech & Chong, Cheech and Chong, Love Jones, soul one-hit wonder