» 1970s, Pop » Long Haired Lover from Liverpool – Jimmy Osmond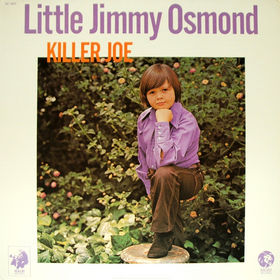 This song has always struck me as slightly disturbing for one big reason: the "lover" in this song is played by nine-year-old Jimmy Osmond. I can't speak for the entire world, but where I live, becoming a lover of anything other than toys, playground basketball and candy when you're nine-years old is pretty much against the law.
Throw in the fact that Jimmy Osmond was a nine-year-old Mormon at the time this song was recorded, and the song is doubly taboo. I'm certain that being a nine-year old Mormon lover of anything other than Jesus and the Book of Mormon (along with toys, playground basketball and candy) will pretty much ensure a quick descent to hell.
I'm kidding, of course.
Let's cut little Jimmy Osmond (as he was known at the time) a little slack here and assume he was simply singing the song the producers placed in front of him.
That feels a lot more plausible, especially when you consider that The Osmond's producer, Mike Curb, was pretty much genius at this point at identifying hits for the collective Osmond crew. Don't believe me? Ponder this little factoid: The Osmonds charted more hits in a 12-month period than any other band in the history of popular music. Better than The Beatles. Better than Madonna. Better than Britney Spears. Better than Elvis.
So let's take a closer look at "Long Haired Lover From Liverpool." This little, largely forgettable ditty was released at the peak of Osmond-mania in 1972 and was a massive success in England where it was the number one song for five weeks in December 1972.
There are two facts that you should remember about the song:
1. It became the UK's Christmas number one for 1972. That's a big deal in England and bands salivate at the thoughts of what being the Christmas number one will do for overall album sales. In Osmond's case, that little song that sold nearly 1 million copies.
2. Little Jimmy still holds the honor for being the youngest performer to hold the number one chart position in the UK. He was just under 10 years old.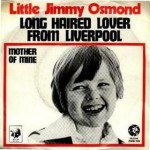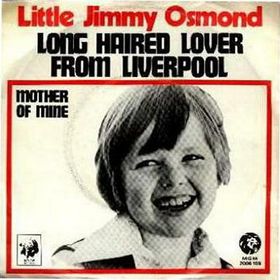 In little Jimmy's homeland, this ode to Liverpool loving didn't perform nearly as well, topping out at #38 on the Billboard Hot 100.
Since Jimmy was never part of The Osmonds during the heyday, this is his only brush with the Top 40. I like it best this way. I'll happily admit I like a few Osmonds song as examples of perfectly written Jackson Five-influenced early 1970s pop songs. "One Bad Apple" is the best song Michael Jackson never sang and "Yo Yo" should have been on the first Jackson Five record.
It just feels right that Jimmy Osmond is a one-hit wonder. And that the world has largely forgotten "Long Haired Lover from Liverpool" so we can keep the creepy thought of a nine-year-old Liverpool lover out of our heads.
Click here to read the "Long Haired Lover from Liverpool" lyrics
Listen to "Long Haired Lover from Liverpool
Buy Long Haired Lover from Liverpool by Jimmy Osmond
Filed under: 1970s, Pop · Tags: 1972, 1972 1 hit wonder, 1972 one hit wonder, Christmas #1, Jimmy Osmond, Long Haired Lover from Liverpool, Michael Jackson, The Osmonds