» 1990s, Pop » Lily Was Here – Dave Stewart featuring Candy Dulfer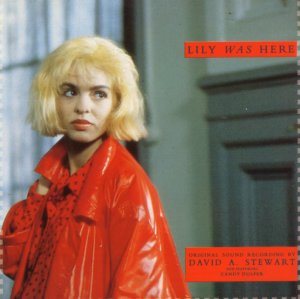 An early 1990s instrumental one-hit wonder for you today that also qualifies as a Dutch one-hit wonder. So you're getting twice the fun for none of the cost. Plus, we're throwing in a bonus connection to a two-hit wonder by connecting Dave Stewart to his ex-wife Siobhan Fahey and her hit "Stay" by Shakespear's Sister.
All these musical connections are simply amazing.
"Lily Was Here" is written by Dave Stewart who was the brains, but never the voice, behind Eurythmics. All those 1980s Eurythmics songs featured Annie Lennox on lead vocals. She became the face of Eurythmics. But Dave was responsible for the sound. That collaboration landed Eurythmics on the Billboard Top 40 an impressive 10 times.
When Eurythmics broke up in 1990, Stewart went to work on solo projects. Some more successful than others. None more successful than his collaboration with Dutch smooth-jazz sax player, Candy Dulfer. Although Dulfer had not yet recorded her own records, she was known to many in the jazz and pop business and Stewart asked her to play on "Lily Was Here." It was early '90s soundtrack perfection and the song reached #11 on the Billboard Hot 100 in 1991, making Dave Stewart and Candy Dulfer one-hit wonders.
In the meantime, Dulfer released her debut album titled Saxuality that became a hit of its own. In fact, it was such a hit, it was nominated for a Grammy Award for Best Contemporary Jazz Album. Unfortunately, It didn't win. Equally unfortunately for many unsuspecting buyers, early versions did not include "Lily Was Here." As a result, copies of Saxuality often appeared in used CD stores throughout the mid-1990s. However, the song is a part of Saxuality CD and MP3 collections today.
Click to hear even more instrumental one-hit wonders
Click to read our list of the best Dutch one-hit wonders
Listen to "Lily Was Here" by Dave Stewart and Candy Dulfer
Filed under: 1990s, Pop · Tags: 1991, Dutch one hit wonder, Dutch one-hit wonders, Grammy Award, Instrumental, instrumental one hit wonder, movie one hit wonder, movie soundtrack, movie soundtrack one-hit wonder, movie theme