» 1970s, Pop » Last Kiss – Wednesday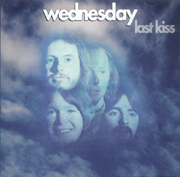 I expect you know "Last Kiss" by Pearl Jam. Virtually everyone has heard Pearl Jam's version of the song, yet almost no one has heard the original one-hit wonder versions by J. Frank Wilson and the Cavaliers and Wednesday.
That's right: two bands are one-hit wonders for the same song. This is what makes one-hit wonders so amazing and why they're so endearing for their simple, bizarre charms.
If you know "Last Kiss" by J. Frank Wilson and the Cavaliers, I'll buy you a ham sandwich.
If you know "Last Kiss" by Wednesday, I'm deeply impressed. So impressed by your rock 'n' roll knowledge, in fact, I'm willing to buy you a steak dinner or a vegan meal. Your choice.
Same song – three bands – three hits
They're the same song, and all three versions charted in the top 40, with Pearl Jam's version reaching #2 on the Billboard Hot 100, which makes it that Rock 'n' Roll Hall of Fame-bound band's highest-charting song.
But I'm not here to praise Pearl Jam. And I'm not here to reminisce about J. Frank Wilson and the Cavaliers' version of "Last Kiss."
Today it's time to honor Wednesday, a band I'm fairly certain 99.9 percent of the music-listening world had completely forgotten until Pearl Jam revived interest in the band with their recording in 1999. And even after Pearl Jam, I'm still certain 99.9 percent of music listeners have never heard their version of this great little passion play.
So here's the skinny behind the song that has been recorded many times and hit Top 40 three times in three decades.
The Story of "Last Kiss"
"Last Kiss" was written by a young Wayne Cochran in 1962 based on a horrific accident that happened near his home in Barnesville, Georgia. Sixteen-year-old Jeanette Clark was out on a date with a boy named J.L. Hancock on December 22, 1962, the Saturday before Christmas. She and a group of friends were riding in a 1954 Chevy driven by Hancock who was also sixteen. They swerved into traffic and hit a trailer truck. Clark, Hancock and another teenager were killed at the scene. Two other teens in the car were seriously injured but survived.
Cochran heard the story and used it to finish "Last Kiss," a song he started writing in 1956 but never completed. In a generous gesture, he dedicated the song to Clark.
His band, Wayne Cochran & the C.C. Riders, released the song but it went largely unnoticed. J. Frank Wilson and The Cavaliers also recorded the song, and that version hit #2 on the Billboard Hot 100 in 1964. The first time "Last Kiss" hit the Top 40.
Click here to read the "Last Kiss" lyrics
"Last Kiss" by Wednesday
Finally, in 1974, Canadian band Wednesday recorded "Last Kiss" and reached #34 on the Billboard Hot 100. The band was nominated for a Juno Award (the Canadian Grammy) and the song reached #2 in their home country. Although they released more singles and made the desperate or edgy decision (you decide) to change the spelling of their name from Wednesday to Wenzday in 1976, they never again saw the top 40.
That makes Wednesday a one-hit wonder.
Listen to "Last Kiss" by Wednesday
Pearl Jam Revives "Last Kiss"
That brings me back to Pearl Jam and Eddie Vedder who picked up a recording of "Last Kiss" in a swap meet and convinced the band to learn and play the song sporadically on their 1998 tour.
The band fell in love with the song and recorded a live, stripped-down and unadorned version of "Last Kiss" and released it as their 1998 Christmas single.
No one associated with the band ever expected it to become a top 10 hit. But it did, and when Pearl Jam contributed the song to a 1999 benefit album for Kosovo titled No Boundaries: A Benefit for the Kosovar Refugees, the song generated $10 million in relief for Kosovo.
So technically, "Last Kiss" could be considered a three-time one-hit wonder. Although Pearl Jam has other Top 40 hits, the casual way the recorded the song and the fact that it wasn't a "real" Pearl Jam song persuades me to count it twice.
You may disagree.
How about we call it a draw and you listen to all three versions of "Last Kiss."
Listen to "Last Kiss" by Pearl Jam
Listen to "Last Kiss" by J. Frank Wilson and the Cavaliers
Filed under: 1970s, Pop · Tags: 1964, 1974, Canadian, forgotten one-hit wonder, J. Frank Wilson and the Cavaliers, Last Kiss, one hit wonder, Pearl Jam, story song, Wednesday