» 1970s, Pop » Kung Fu Fighting – Carl Douglas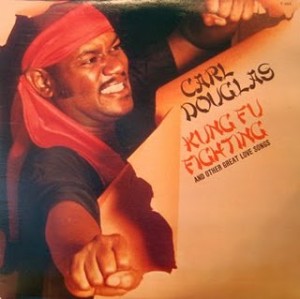 Everyone loves "Kung Fu Fighting" by Carl Douglas. There's something deeply satisfying about any song that uses the stereotypical oriental riff. I love it in "Kung Fu Fighting." I love the same riff in "Turning Japanese" by The Vapors.
It's not politically correct. It's not brilliant songwriting. But it sets the stage and suddenly an African-American man singing about Kung Fu Fighting makes perfect sense.
"Kung Fu Fighting" takes us back to the early 1970s when Bruce Lee was the toughest man in the world and David Carradine was roaming the American West in the TV series Kung Fu. While I understand the allure of Hong Kong fight films from any era, I never really wrapped my head around the merits of Kung Fu. How that TV show became iconic and stayed on the air for three seasons is a mystery.
But it's no mystery why "Kung Fu Fighting" by Carl Douglas became a #1 hit in 1974 and transformed Carl Douglas from wannabe rock star to full-fledged one-hit wonder. Just listen to the song. We're fairly certain at some point while listening you are going to chop a table in half or spontaneously kick the person next to you in the side of the head. The song is that good. So please warn your neighbors.
Click to hear other Billboard number-one hit one-hit wonders
Why did Douglas write "Kung Fu Fighting" I hear you asking? I don't really know. Douglas isn't even sure himself, having cited the inspiration as both watching a Kung Fu movie and watching two kids Kung Fu Fighting on the street.
Click here to read the "Kung Fu Fighting" lyrics
Regardless, I'm glad to have the song to add to a short list of Asian-influenced one-hit wonders (at this point, that list only includes "Turning Japanese" by The Vapors and "Kung Fu Fighting" but I'll keep listening and looking for connections. If you can think of another Asian-influenced one-hit wonder, please let me know.)
We're also impressed that Douglas tried to force hit-song lightning to strike twice when he released "Dance the Kung Fu." You can't get any more blatantly or transparently obvious about how desperately you want a follow-up hit with that approach. But frankly, I can't blame Douglas. How many of you have performed Kung Fu moves on American TV? Once you get a taste for that sweet action, it's hard to give it up.
And for the record, "Kung Fu Fighting" was ranked #100 on VH1's list of the 100 Greatest One-Hit Wonders.
Listen to "Kung Fu Fighting
Filed under: 1970s, Pop · Tags: #1 hit, #1 song, 1974, Billboard number one hit, Carl Douglas, David Carradine, kung fu, Kung fu fighting, Kung Fu tv show, number one song, one hit wonder, The Vapors, Turning Japanese, TV series