» 1980s, Pop » Just Got Lucky – JoBoxers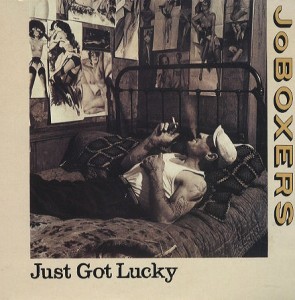 Some peppy '80s goodness for you today. Courtesy of the Brits, of course.
"Just Got Lucky" is the second single from British/American band, JoBoxers. Their first single, "Boxerbeat," hit #3 on the British charts but did nothing in the United States. The follow-up single, "Just Got Lucky," sold 250,000 copies in the U.K. But what matters to us is that it hit #36 on the Billboard Top 40 in 1983. That turned JoBoxers into British one-hit wonders and lands them on our humble little site.
Click to hear more British One-Hit Wonders
Click to read the Just Got Lucky lyrics
Is this new wave? Is this pop music? Is this pop-meets-new-wave-meets-a-subtle-ska-influenced hit? We're not entirely sure.
But if you were a fan of British pop music in the early 1980s, you had lots of variations on this theme. In fact, The Style Council who are also one-hit wonders for their hit "My Ever Changing Moods" has a number of songs in this style. If you like the sound, we recommend Cafe Bleu by The Style Council. Also good peppy fun with some somber ballads thrown in there to keep things interesting.
Like many one-hit wonder bands, JoBoxers released their debut album, Gangbusters, enjoyed some time in the spotlight, followed up with a second album, Skin and Bones, and called it a day.
But "Just Got Lucky" remains their shot over the bow, their one stateside hit that continues to get rotations on 1980s New Wave compilations and movies like the 40-Year-Old Virgin and the Lyndsay Lohan flick, Just My Luck. We still love it all these years later.
Listen to Just Got Lucky by JoBoxers
Filed under: 1980s, Pop · Tags: 1983, British one-hit wonder, New Wave, The Style Council