» 1980s, Pop » (I've Had) The Time of My Life – Bill Medley and Jennifer Warnes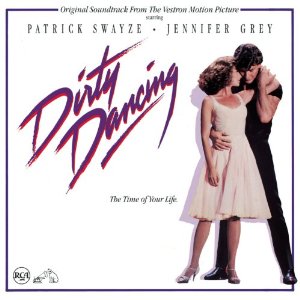 If you're a child of the 1980s, you know Jennifer Grey as Ferris Bueller's obnoxious big sister in Ferris Bueller's Day Off. Or even more likely, you know her as Baby from Dirty Dancing.
Then she pretty much disappeared from public consciousness. Until 2010 when her terrific dancing skills transformed Baby into the deserving winner of Dancing With the Stars.
The first time people noticed that Jennifer could dance was during the dramatic finale of Dirty Dancing when she and Patrick Swayze bring down the house with their stylish and provocative moves as "I've Had the Time of My Life" plays in the background. We always loved this scene because the song sounds nothing like pop songs from 1963, when the movie is set. But viewers didn't care and soon "(I've Had) The Time of My Life" was the number one song in America in November 1987.
Bill Medley and Jennifer Warnes became one-hit wonder artists as a duo (individually, Medley and Warnes have spent plenty of time on the charts as songwriters and members of The Righteous Brothers). YouTube doesn't allow us to embed footage of the famous Dirty Dancing finale. But you can see it on our Top One-Hit Wonders YouTube video channel
Moviegoers loved Dirty Dancing, and the film has earned more than $215 million since its release in 1987.
Academy Award voters loved "(I've Had) The Time of My Life" and awarded it the Academy Award for Best Original Song Song in 1987.
As for us? We just want to watch Jennifer Grey dance. That's more than enough. And no, we would never put Baby in a corner.
Watch Bill Medley and Jennifer Warnes Sing I've Had the Time of My Life
Watch the Family Guy Star Wars Parody of I've Had the Time of My Life
Filed under: 1980s, Pop · Tags: 1987, academy award, Academy Award Best Original Song, Best Original Song Academy Award, Bill Medley, Ferris Bueller's Day Off, Jennifer Grey, Jennifer Warnes, movie one hit wonder, movie soundtrack, movie soundtrack one-hit wonder, movie theme, Movies