» 1970s, Pop » In the Mood – Henhouse Five Plus Too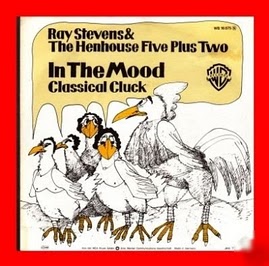 Few songs make me want to pay an Ear, Nose and Throat doctor to remove my ear drums.
But "In the Mood" by Henhouse Five Plus Too is in serious contention.
This novelty song is pure garbage. It's stupid. It's silly. It's dumb enough that to hear it once is more than enough.
Remarkably, "In the Mood" by Henhouse Five Plus Too reached #40 on the Billboard Top 40 in 1977 and that's good enough to land it on Top One-Hit Wonders where I believe it shames all other one-hit wonder novelty songs with its sheer inanity.
Let me count the ways I loathe this song.
The band is called Henhouse Five Plus Too. It's not even the Henhouse Five Plus Two because Too is funnier than Two, I guess. And that's way more clever than calling it the Henhouse Seven. But it simply strikes me as dumb. Maybe there is an inside joke buried somewhere in the name but I've given up trying to find it.
The song is a cover version of "In the Mood" by Glenn Miller, one of the most popular big-band songs. But this time, it's clucked by chickens. Chickens, people! Now that's rich in humor if you've been music-deprived your entire life and your idea of a good time is imitating animals singing big-band standards…poorly.
The Henhouse Five Plus Too isn't even the Henhouse anyone. It's actually novelty songwriter and Grammy Award-winner Ray Stevens who is the same man who bestowed "The Streak" upon the world back in 1974. The reason this makes me mad is that if Stevens had simply credited himself, then I wouldn't have to write about "In the Mood" and you wouldn't have to listen to it because Ray Stevens is far from a one-hit wonder. In fact, Stevens released more than 90 singles in a distinguished six-decade career and notched 10 top-40 hits. Frankly, that's impressive work; "In the Mood" is not.
Listen to In the Mood by Henhouse Five Plus Too
I've now spent more time writing about this song than listening to it. That's more than enough. I'm no longer in the mood.
Hear: more novelty songs
Hear: more instrumental one-hit wonders
Hear: the worst one-hit wonders ever!
Buy In the Mood by Henhouse Five Plus Too
Filed under: 1970s, Pop · Tags: 1970s one hit wonder, 1977 1 hit wonder, 1977 one hit wonder, Glenn Miller, Henhouse Five Plus Too, In the Mood, instrumental one hit wonder, novelty hit, novelty song, Ray Stevens, The Streak, worst one hit wonders