» 1990s, Pop » I'm Too Sexy – Right Said Fred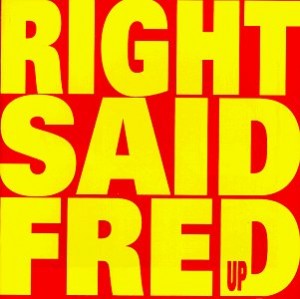 Some bands are one-hit wonders in America but multi-hit wonders in other countries. Take Right Said Fred, for example. I'm pretty sure that every man, woman or child born after 1988 has either heard someone sing or say these lines:
"I'm too sexy for my shirt/too sexy for my shirt/so bad it hurts."
That's the chorus from their 1992 #1 Billboard top 100 hit called "I'm Too Sexy."
Click to hear other Billboard number-one hit one-hit wonders
I'm sure you know it. You can probably recite the rest of the lyrics from memory as well. If you can't, I've included them below for your amusement, edification, and possibly inspiration. Amazing, Pulitzer Prize-winning prose indeed.
But let's talk about Right Said Fred for a moment.
This little band that is still active in 2010 was the first British band since The Beatles to hit #1 on the U.S. Billboard Charts with their debut single. That's a mighty big achievement. Of course, you're reading about Right Said Fred here because they never hit the top 40 again. But let's celebrate their success for a moment.
Celebrating….celebrating…celebrating.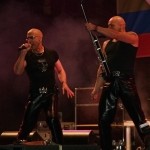 OK, we're back. The writers of "I'm Too Sexy" are buffed-out, muscle-bound brothers Richard and Fred Fairbrass. Richard sings and Fred plays guitar. They both write songs and together they've released eight records since 1992's Up.
They've had six top 40 hits in the U.K. But alas, only one in the United States. Perhaps they should add this new line to "I'm So Sexy."
"I'm too sexy for the charts/too sexy for the charts/that smarts"
Lame joke, I'll admit. Just listen to the song instead.
Listen to "I'm Too Sexy" by Right Said Fred
I'm Too Sexy – Right Said Fred
Buy "I'm Too Sexy" by Right Said Fred
Watch the "I'm Too Sexy" video
"I'm Too Sexy" lyrics by Right Said Fred

I'm too sexy for my love too sexy for my love
Love's going to leave me
I'm too sexy for my shirt too sexy for my shirt
So sexy it hurts
And I'm too sexy for Milan too sexy for Milan
New York and Japan
And I'm too sexy for your party
Too sexy for your party
No way I'm disco dancing
I'm a model you know what I mean
And I do my little turn on the catwalk
Yeah on the catwalk on the catwalk yeah
I do my little turn on the catwalk
I'm too sexy for my car too sexy for my car
Too sexy by far
And I'm too sexy for my hat
Too sexy for my hat what do you think about that
I'm a model you know what I mean
And I do my little turn on the catwalk
Yeah on the catwalk on the catwalk yeah
I shake my little touche on the catwalk
I'm too sexy for my too sexy for my too sexy for my
'Cos I'm a model you know what I mean
And I do my little turn on the catwalk
Yeah on the catwalk on the catwalk yeah
I shake my little touche on the catwalk
I'm too sexy for my cat too sexy for my cat
Poor pussy poor pussy cat
I'm too sexy for my love too sexy for my love
Love's going to leave me
And I'm too sexy for this song
Filed under: 1990s, Pop · Tags: #1 hit, #1 song, 1992, Billboard number one hit, British, British band, British one-hit wonder, DANCE, I'm Too Sexy, number one song, one hit wonder, Pop, Right Said Fred