» 1990s, Pop » I'm Gonna Be (500 Miles) – The Proclaimers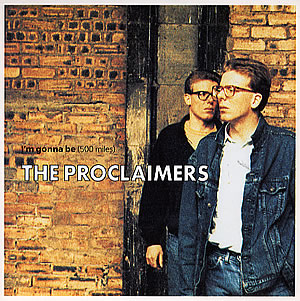 You don't see many identical twins in the music business. And you don't see many songs become a Billboard Top 10 hit six years after its initial release. But that's exactly what you get with "I'm Gonna Be 500 Miles" by Scottish band The Proclaimers.
Charlie and Craig Reid are identical twins. They're Scottish, and we love ourselves some Scottish bands like The Proclaimers, Simple Minds, Danny Wilson and Teenage Fanclub. And they are one-hit wonders for the enduring shot of pop-music brilliance with their 1993 hit "I'm Gonna Be (500 Miles)."
Love it. Hate it. Merely tolerate it. I'm confident you can belt out the chorus of "I'm Gonna Be (500 Miles)" at the top of your lungs without missing a word.
Click here to read "I'm Gonna Be (500 Miles)" lyrics
It's a bouncy, poppy, singalong-song that works best when sung at the top of your lungs with thousands of your closest friends. That's exactly what happens when these Scottish lads bust into song at their concerts or when the song is played at rugby and soccer matches for various Scottish teams.
The piece of trivia you need to know about this song is that it's a 1990s one-hit wonder that was recorded in the 1980s but made famous in the United States by the Johnny Depp film, Benny and Joon. That movie pushed "I'm Gonna Be (500 Miles" all the way to #3 on the Billboard Hot 100 in 1993. Impressive work lads.
Click to hear more British One-Hit Wonders
Watch The Proclaimers and Crowd Sing I'm Gonna Be (500 Miles)
Filed under: 1990s, Pop · Tags: 1993, 90s one hit wonder, Benny and Joon, British, British one-hit wonder, Live 8, movie one hit wonder, movie soundtrack, movie soundtrack one-hit wonder, Scottish, Scottish bands, Scottish one-hit wonder