» 1980s, Pop » Iko Iko – The Belle Stars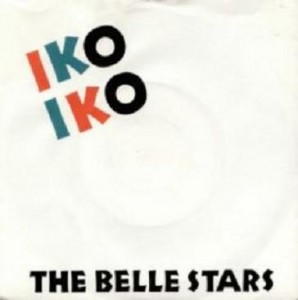 New Orleans is an amazing city. Amazing food. Fantastic musical tradition in jazz, blues, cajun and rock 'n' roll. Visit sometime; it's well worth your time.
An interesting phenomenon occurred recently while spending a week in the big easy. Walking through the storied French Quarter, one song appeared more often than any other: Iko Iko.
Why Iko Iko? Why New Orleans? And why does Iko Iko prompt memories of The Belle Stars vs. The Dixie Cups or Dr. John?
We've investigated. Here are the answers.
Iko Iko was written by New Orleans songwriter James "Sugar Boy" Crawford. It's the story of warring tribes of Mardi Gras Indians. Nothing more. Nothing less. He grabbed a few phrases he didn't understand like "Iko iko an nay" and "Jockomo feena ah na nay," set them to music and recorded the song as "Jock-a-Mo" (we consider it an obvious inspiration behind the "Whack-a-Mole" arcade game).
It didn't become famous.
The Dixie Cups Record Iko Iko
But The Dixie Cups (the girl group who made "Chapel of Love" famous in the 1960s) learned the song from their grandparents and sang an impromptu version in the studio while recording an album. Their producers (the legendary Jerry Lieber and Mike Stoller) took the raw recording, added drums and a few more instruments and released "Iko Iko."
That song became a hit, reaching #20 on the Billboard Hot 100 in 1965. This is the early version most people know. Lawsuits ensued when Crawford sued The Dixie Cups for stealing his song. The Cups success runneth over when they beat Crawford in the lawsuit and actually received royalties and payment for the song. A good gig on their end.
From that point on, "Iko Iko" became a staple of many band's live shows. Dr. John recorded it. The Grateful Dead played it at nearly every live show from the mid-1970s onward. It was everywhere.
But it was never a hit. Until a new version by British all-girl band The Belle Stars recorded it for the Rain Man soundtrack.
The Belle Stars Push "Iko Iko" Back to American Charts
"Iko Iko" was once again a hit, reaching #14 on the Billboard Hot 100 with a clearly inferior version of a classic song. We'll take the Dixie Cups version every time.
But we do have respect for The Belle Stars. In fact, we're big fans of their British #3 hit (but non-U.S.-charting single "Sign of the Times" from 1983). It is the best Bananarama song Bananarama never recorded. But if you listen to it, you'll swear it is the girls from Bananarama after all.
Click to hear more British One-Hit Wonders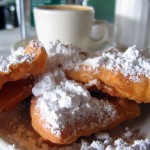 We've included both Belle Stars songs for your ears. Consider it a little sugar high for your one-hit wonder reading. Because both of these songs are as sugary sweet as a heaping order of beignets from New Orleans' Cafe du Monde.
Listen to "Iko Iko"
Listen to "Sign of the Times" by The Belle Stars
Filed under: 1980s, Pop · Tags: 1989, Bananarama, Belle Stars, British, British band, British one-hit wonder, Dr. John, New Orleans, The Grateful Dead