» 1980s, Pop » I Wanna Be a Cowboy – Boys Don't Cry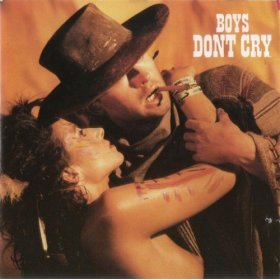 Ah, the 1980s. Synth rock. MTV. Fashion over form. Big electronic drums. Novelty songs.
No matter how you slice it, the 1980s were a great era for pop music, especially for British new wave/pop bands like Duran Duran, Culture Club, Madness, The Promise and many, many more.
You can lump Boys Don't Cry into that mix as well. Especially when you listen to their novelty song "I Wanna Be A Cowboy." It has all the trademark 80s music look and sound — all in one song/video.
A studio creation from England fronted by vocalist Nick Richards and keyboard player Brian Chatton, this five-piece band rode a killer lyrical hook (I wanna be a cowboy/And you can be my cowgirl) into one-hit wonder legend.
Our favorite lyrics from the song?
Riding on the chuck wagon,
Following my man.
His name is Ted,
Can you believe that?
Read "I Wanna be a Cowboy" lyrics
That's a gutsy rhyming scheme, right there. So gutsy there is no rhyme or reason to it. But it doesn't matter because this song still pulls butts off of chairs and onto the dance floor. And that was really what the 1980s were about: matching a great melody to a memorable line and then hoping and praying MTV would air your video.
Put that combo together like Boys Don't Cry did with "I Wanna Be a Cowboy" and you've got yourself a song that reached #12 on the Billboard Top 40 in 1986.
Click to hear more British One-Hit Wonders
Boys Don't Cry released two albums following their breakout single but none of them captured the listener's imagination quite like their ode to the cowboy life. And we think it's just fine that way.
Listen to "I Wanna be a Cowboy
Filed under: 1980s, Pop · Tags: 1986, British, British band, British one-hit wonder, New Wave, novelty, novelty hit, Pop, synth rock, Synthpop