» 1980s, Pop » I Remember Holding You – Boys Club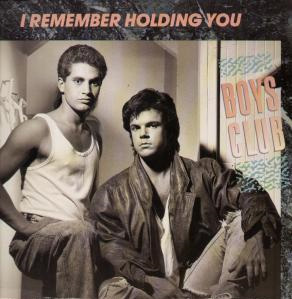 Minneapolis, Minnesota has given the rock world Prince, The Replacements and Husker Du. On that alone we should revere the city. But they also dropped a 1989 one-hit wonder on American ears in the guise of Boys Club, an R&B duo comprised of Gene Hunt and Joe Pasquale. Not exactly equivalent, but at least Boys Club hit the Top 40 whereas The Replacements and Husker Du never did (but they influenced thousands of kids to play guitar and write songs so their impact is much, much deeper).
"I Remember Holding You" hit #8 on the U.S. singles chart in early 1989. We like to think of Boys Club as the Twin Cities version of Wham!. In fact, Boys Club were huge fans of George Michael and Andrew Ridgeley. So when it was time for Boys Club to wake up and go-go, they knew the moves already (lame pun, I'll admit).
What is interesting about Boys Club is that Gene Hunt is actually a member of the Wolfgramm clan who you probably know as The Jets. They are largely forgotten today, but between 1986 and 1988 the family band dropped five Top 40 singles on the Billboard charts.
Boys Club time in the spotlight was brief at best. But they hit the top 40 and created one more reason to remember Minneapolis as a hotbed of 1980s rock and pop sounds. It also sets the stage for the boy band sound that was huge in the late 1990s.
Listen to I Remember Holding You
Filed under: 1980s, Pop · Tags: 1989, ballad, boy band, Boys Club, forgotten one-hit wonder, one hit wonder, The Jets, Wham