» 1990s, Pop » How Do You Talk to an Angel – The Heights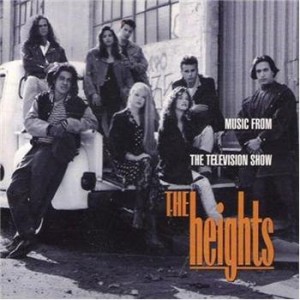 Aaron Spelling is one of the all-time genius TV show producers.
You may not love all his programs.
You may laugh at their period-piece pop-cultural aesthetics.
You may tell your friends you never watched Charlie's Angels or Melrose Place or Dynasty or Beverly Hills 90210 or The Mod Squad.
But the fact is, you probably did. And the rest of America joined you on the sofa as these TV shows became cultural phenomenons and water cooler fodder.
But one Aaron Spelling show no one seemed to watch but served as a springboard for a pop music career for lead character, Jamie Walters, is The Heights.
The Heights premiered to great hype and fanfare in late August 1992 and was gone by late November 1992 after airing only 13 episodes. The premise followed a young band full of beautiful people called The Heights, as they struggled for fame, fortune and gigs. America shrugged with indifference. But evidently loved the theme song since "How Do You Talk to An Angel" hit #1 on the Billboard Top 40 in 1992, transforming lead singer Jamie Walters and The Heights into one-hit wonders.
Click to hear more one-hit wonders that are Billboard #1 hits
Here's the best piece of The Heights trivia: "How Do You Talk to an Angel" hit #1 the week The Heights was cancelled.
Listen to How Do You Talk to an Angel by The Heights
Jamie Walters never looked back, however, and hit the Billboard Top 40 for a second time three years later with his hit, "Hold On" that reached #16 on the Billboard Top 40. That makes Walters a two-time one-hit wonder or essentially a person who had two Top 40 songs with two completely different bands. Not an easy feat and achieved by a relatively small number of artists that includes Ann Wilson of Heart, Donnie Iris of The Jaggerz and a solo career, J.D. Souther, Nick Gilder and a few others.
Click to hear more two-time one-hit wonders
Before you leave, take a few moments to review a list of Aaron Spelling TV shows. A pretty impressive (though not critically appreciated) list of pop cultural cheese.
Charlie's Angels starring Cheryl Ladd who is a one-hit wonder for her 1978 single, "Think It Over"
Dynasty
Starsky and Hutch
The Mod Squad
S.W.A.T.
The Love Boat
Fantasy Island
Vega$
Hart to Hart
Family
Hotel
The Rookies
Beverly Hills 90210
Melrose Place featuring one-hit wonder singer Jack Wagner whose song "All I Need" became popular during his stint on General Hospital
T.J. Hooker
Sunset Beach
7th Heaven
Charmed
Buy How Do You Talk to an Angel by The Heights
Filed under: 1990s, Pop · Tags: 1992, Aaron Spelling, All I Need, Charlie's Angels, Hold On, How Do You Talk to an Angel, Jack Wagner, Jamie Walters, Love Song, one hit wonder love song, one-hit wonder ballad, The Heights, TV series, TV show, TV show one hit wonder, TV show one hit wonders, TV theme, two time one hit wonder