» 1970s, Pop » Hot Child in the City – Nick Gilder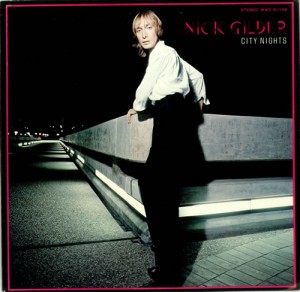 Let's try a quick test.
Question #1: Can you name a Canadian one-hit wonder song about child prostitution?
Question #2: Can you sing "Hot Child in the City" by Nick Gilder?
Question #3: Have you heard "Hot Child in the City" on any radio station in at least 25 years?
If you've made it to this page, there's a very good chance you actually do remember "Hot Child in the City" and can belt out the chorus loud and proud.
But question number three, about hearing the song on the radio, that's much tougher. That's mostly because the song was huge, and then it died an unceremonious death, appearing mostly on compilation records through the 1980s, 1990s and even the 2000s.
But why? What killed "Hot Child in the City?"
Listen to Hot Child in the City by Nick Gilder
Back in 1978, Nick Gilder's face and his hit song were everywhere. "Hot Child in the City" was recorded for Gilder's second solo long-player titled City Nights. It's pretty much the only song about child prostitution that ever hit the top spot on the Billboard Top 40. Yep, that's a fact, "Hot Child in the City" is based on Gilder's shock at all the underage girls on the streets in Los Angeles when this Canadian rocker first arrived in America's biggest West Coast city. He wrote "Hot Child in the City" in response and somehow, amazingly, American and Canadian listeners gobbled the song up, pushing "Hot Child in the City" to #1 on the Billboard Top 40 in 1978, making Nick Gilder a one-hit wonder.
Click to hear other Billboard number-one hit one-hit wonders
Child prostitution. Urghhh. No wonder the song always had a creepy vibe to it.
But it also is remarkably poppy and memorable. But when you consider the underlying theme, it's no real surprise the song is poison on commercial radio today. Who really wants to sing along to an anthem to the underage sex business?
Now you know the answer to question #1. Still feels creepy, doesn't it?
Click to read Hot Child in the City lyrics
You would think a song about child prostitution would have ensured ongoing success for Gilder (I kid, of course). It didn't. But what is remarkable about Gilder's career is that he continued as a songwriter and, in 1984, Gilder co-wrote Scandal's biggest hit, "The Warrior." That song also turned Patty Smyth and Scandal into a one-hit wonder. In turn, that makes Gilder a two-time one-hit wonder. Once as an artist. Once as a songwriter. Plus, he's a Canadian one-hit wonder, as well.
Listen to more Canadian one-hit wonders
Impressive work, Mr. Gilder, even though I'll excuse myself from thinking about the subject of matter of your song next time it comes on my iPod. Kind of the same way I sing along to "Brick" by Ben Folds Five, without thinking about the fact that it's a true story about an abortion.
One-hit wonders can be just as creepy as they are wonderful. Sometimes they're both.
Filed under: 1970s, Pop · Tags: #1 hit, #1 song, 1978, Ben Folds, Billboard number one hit, Brick, Canadian, Canadian one-hit wonder, Hot Child in the City, Nick Gilder, number one song, Patty Smyth, Scandal, The Warrior, two time one hit wonder