» 1980s, Pop » Honestly – Stryper
February 21st, 2012 | Add a Comment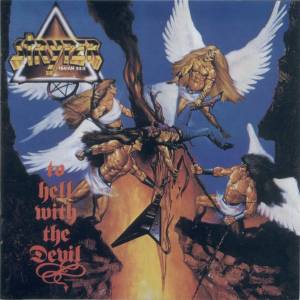 Stryper was scarcely the only Christian heavy metal band, but they were one of the few such groups to attract the attention of the general public (even some non-Christians), if only for a brief time.
Their 1987 album To Hell With the Devil (early pressings of which sported a cool cover) came out with perfect timing: Def Leppard, Whitesnake, Poison, Bon Jovi and a host of other hard-rocking bands were riding high on both the album and pop charts.
Stryper managed to catch this wave and To Hell With the Devil became a million-seller and even spawned "Honestly," a number 23 power ballad that was Stryper's lone Top 40 hit, reaching its peak in early 1988. That bit of chart success transformed Stryper into one-hit wonders. Let's call them evangelical one-hit wonders.
Listen to Honestly by Stryper
Any discussion of Stryper has to include their concert trademarks: Aside from passing free Bibles to the audience and wearing black-and-yellow striped costumes that frankly made them look like giant bees buzzing around the stage, everything on a Stryper stage was decorated with yellow and black stripes, right down to the cymbal stands around the drum kit. Whether cool or just plain obnoxious (you make the call), either way, it was certainly distinctive!
Of course, rock music audiences of all stripes have always been fickle, and by the time Stryper released the follow-up album In God We Trust, their secular audience had moved on to other things and this album sold far fewer copies.
The band then adopted a scruffier image, dropped the stripes and released a secular album called Against the Law that even included a remake of the Earth, Wind and Fire classic, "Shining Star." This move proved unsatisfactory on two counts: it failed to win back their secular audience and it ticked off their Christian following. Plus, it butchered one of EWF's best songs, and such blasphemy can never be forgiven.
Listen to Shining Star by Stryper
Stryper disappeared for many years after that, but in recent years, they have tried a couple of comeback albums. But honestly, no one has really cared.
Buy Honestly by Stryper
I'm a long-time student of the history of rock music and its performers, and my favorite branch of the rock music tree is heavy metal.
Filed under: 1980s, Pop · Tags: 1988 1 hit wonder, 1988 one hit wonder, ballad, Christian band, Christian heavy metal band, Earth, heavy metal one hit wonder, Honestly, power ballad, rock one hit wonder, Shining Star, Stryper, Wind and Fire