» 1990s, Pop » Groove Is In the Heart – Deee-Lite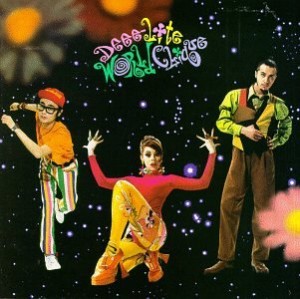 Twenty years ago this week, groove seemed to be in everyone's heart. That's because "Groove Is In the Heart" by Dee-Lite hit #4 on the Billboard Top 40.
This is a one-hit wonder that is every bit as awesome, amazing and perfect today as it was then. Listen to it. Now.
Bootsy Collins on bass (gotta love Bootsy since he was a key part of James Brown and the JBs in 1970 when they released "Get Up (I Feel Like Being a) Sex Machine." That song is rightfully ranked #326 on on Rolling Stone magazine's list of the 500 greatest songs of all time. I agree. Though I would place it at #322 instead. Rest In Peace soul brother #1.
Q-Tip from A Tribe Called Qwest lays down the rap.
Lady Miss Kier sings and dances her way into your heart.
Towa Tei lays down the samples, a few of which include:
Bel-Sha-Zaar with Tommy Genapopoluis and the Grecian Knights – "Introduction" from the album The Art of Belly Dancing, 1969
Herbie Hancock – "Bring Down the Birds" from the soundtrack album Blowup, 1966 (bassline)
Vernon Burch – "Get Up" from the album Get Up (drums, crowd noise, slide whistle)
Ray Barretto – "Right On" from the album Barretto Power, 1972 (cowbell)
Theme from the TV series Green Acres (vocal sample: looped "I" sample sung by Eva Gabor)
Ralph MacDonald – "Jam on the Groove" from the album Sound of a Drum, 1976 (percussion)
Billy Preston – "Uptight" from the album The Wildest Organ in Town!, 1966 (breakbeat under rap by Q-Tip)
The Headhunters – "God Make Me Funky" from the album Survival of the Fittest, 1975 (drum roll)
Put it all together and you have pop music brilliance. The kind of brilliance that turns Deee-Lite into a one-hit wonder.
Love it.
Now listen and dance.
Listen to Groove Is In the Heart by Deee-Lite
Watch the Groove Is In the Heart video by Deee-Lite
Filed under: 1990s, Pop · Tags: 1990, funk, James Brown, The Ting Tings