» 1980s, Pop » Gee Whiz – Bernadette Peters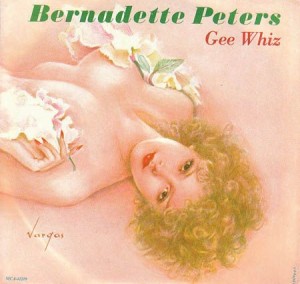 Are you kidding me?
"Gee Whiz" by Bernadette Peters is awful. Simply awful.
Production-wise it's a throwback to the 1950s with a 1970s sultry saxophone solo for about four bars in the middle section.
Peters emotes and has the chops to hit all the right notes but somehow this song falls completely flat.
It's songs like these that make you both love and loathe Billboard pop music charts.
"Gee Whiz" climbs all the way to number 31 on the Billboard Top 40 in 1980.
Music listeners are a surprising bunch.
Listen to Gee Whiz by Bernadette Peters
Yet, unlike Bernadette Peters who has enjoyed a remarkably diverse and successful entertainment career, time has shown that "Gee Whiz" had no legs. I don't remember hearing the song in the 1980s and I don't think any radio station has played it since.
It's not even included on Bernadette Peters' greatest hits.
It's a forgotten one-hit wonder and I'll add it to a growing list of the worst one-hit wonders
Hear: the worst one-hit wonders ever
Listen: More forgotten one-hit wonders
Buy Gee Whiz by Bernadette Peters
Filed under: 1980s, Pop · Tags: 1980 1 hit wonder, 1980 one hit wonder, 1980s one hit wonder, ballad, Bernadette Peters, forgotten one-hit wonder, Gee Whiz, one hit wonder love song, worst one hit wonders