» 1990s, Pop » Everything But the Girl – Missing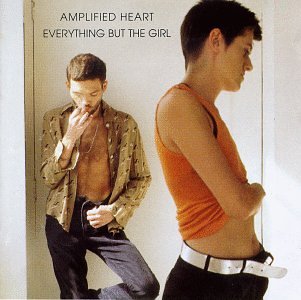 "Missing" by Everything But the Girl is a tremendous pop song. One of the best of the 1990s. In fact, I would place it in the same company as "You Get What You Give" by New Radicals as a nearly perfect pop song.
Great chorus
Great musical hook.
Great vocal performance.
If you've paid attention to Everything But the Girl since the band's founding in the early 1980s, you realize "Missing" sounds nothing like their early records.
Everything But the Girl emerged in the same cool, jazzy environment that turned Sade's "Smooth Operator" into a hit way back in 1985. In fact, lead singer Tracey Thorn contributed lead vocals on the Style Council's first full-length record Café Bleu that included the original version of "My Ever-Changing Moods." So there's another one-hit wonder connection for you. That eclectic record and Everything But the Girl's debut, Eden, sound like they're cut from the same cloth and recorded in the same British studio.
Everything But the Girl continued to evolve and over the course of 11 albums and 15 years, they explored everything from cocktail party jazz to acoustic music to club beats.
That leads us naturally to their 1996 breakthrough hit, "Missing." Although "Missing" was strong in its original version on Amplified Heart, it was a remix by Terry Todd that set that dance floors in America and Europe on fire in the mid-1990s.
Listen to the Terry Todd Remix of Missing by Everything But the Girl
Listen to the original version of Missing by Everything But the Girl
Take the same vocals. Add a pulsing disco beat that sounds equally at home on songs like "The Hustle" by Van McCoy or "Disco Duck" by Rick Dees from the 1970s and you have a formula for a hit song.
"Missing" was huge, barely missing the number-one spot on the Billboard Top 40 when it hit #2 in early 1996. That song transformed Everything But the Girl into one-hit wonders in the United States. But they're no one-hit wonders in their native England where they've had 5 Top 20 hits including "I Don't Want to Talk About It," "Walking Wounded" and, of course, "Missing," but only the Terry Todd remixed version.
I've always adored Tracey Thorn's voice and Ben Watt's production skills. I highly recommend their debut album, Eden (or Everything But the Girl in the US), to hear how far their music has evolved. And I also adore Ben Watt's remix of "Central Reservation" by Beth Orton. Check it out on YouTube.
Buy Everything But the Girl Music
Filed under: 1990s, Pop · Tags: 1996, British, British band, British one-hit wonder, Disco Duck, Everything But the Girl, Missing, Missing Terry Todd remix, My Ever Changing Moods, Rick Dees, The Hustle, The Style Council, Van McCoy