» 1980s, Pop » Don't Worry Be Happy – Bobby McFerrin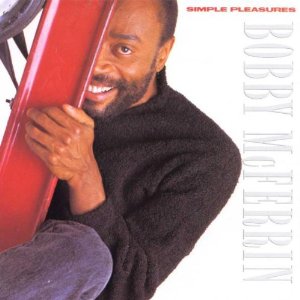 Love it or hate it. That's the story with this one-hit wonder.
Back in 1988, "Don't Worry Be Happy" became the buzzword du jour.
The catchphrase of the day.
The song of the moment.
That was 1988.
Today, people may still say "Don't Worry Be Happy." And then they get punched in the gut by someone who does want to worry and has no interest in being happy.
Bobby McFerrin grew so tired of the song and phrase, he hasn't performed the song in years.
But you know the song. You can sing the chorus. You probably remember the video starring Robin Williams and Bill Irwin, Sesame Street's Mr. Noodle.
Listen to Don't Worry Be Happy by Bobby McFerrin
The song was a phenomenon when it was relased in 1988. In fact, it was so popular, "Don't Worry Be Happy" reached #1 on the Billboard Top 40 in 1988 making Bobby McFerrin a one-hit wonder.
Click to hear other Billboard number-one hit one-hit wonders
Besides being a one-hit wonder, it was also the first-ever a Capella one-hit wonder. It also snagged a bunch of Grammy Awards at the 1989 ceremony, including Song of the Year, Record of the Year and Best Male Pop Vocal Performance.
Click to hear other Grammy Award winning one-hit wonders
Add one more honor to its virtual trophy case: VH1 ranked "Don't Worry Be Happy" #31 on its list of the 100 Greatest One Hit Wonders of the 80s.
Pretty amazing for a song where all the "instruments" are played by McFerrin himself. From that perspective, the man is a serious genius. If you've ever seen him perform live, you realize he is a seminal talent. And I can't fault him for growing tired of "Don't Worry Be Happy" simply because unlike many one-hit wonder artists who are here today and gone tomorrow, McFerrin has been a sizable presence in the classical, pop and jazz communities for decades. He's no one-trick pony.
While McFerrin may no longer perform the song, I'm sure he happily deposits the monthly royalty checks for one of the 1980s most lasting songs.
Filed under: 1980s, Pop · Tags: #1 hit, #1 song, 1988, a capella, Billboard number one hit, Don't Worry Be Happy, Grammy Award, number one song, Record of the Year, Song of the Year