» 1970s, Pop » Don't Give Up On Us – David Soul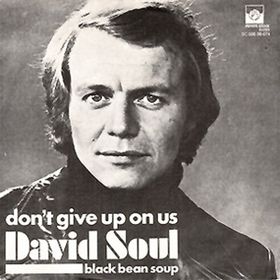 Some of the greatest (or silliest) pop songs ever written or recorded were by TV stars who crossed over to the Billboard charts. Here's a short list for you:
Rick Springfield from General Hospital (not a one-hit wonder but he gave the world "Jessie's Girl" and for that we'll always be grateful)
Leif Garrett from Family in 1976 singing "I Was Made for Dancing" (not a one-hit wonder either and now known more for his drug-related arrests than his music or acting)
William Shatner from Star Trek singing his beatnik version of "Mr. Tambourine Man"
Jamie Foxx from In Living Color singing "Blame It," a #2 Billboard hit in 2009
David Soul from Starsky and Hutch (a true one-hit wonder)
Today we're paying homage to David Soul, TV's tough guy turned sensitive balladeer and his 1977 #1 Billboard hit, "Don't Give Up On Us."
Click to hear other Billboard number-one hit one-hit wonders
David Soul started his singing career in the early 1960s as a folksinger. Along the way, he opened shows for The Byrds, Ramsey Lewis, Jay and the Americans, and Mitch Ryder and the Detroit Wheels.
Then, in 1967, he appeared on the Merv Griffin show as "The Covered Man." Since Soul was a good looking guy but wanted his music to sell on its own merits and not his looks, he literally covered his face and sang in what can only be described as either a Mexican wrestler mask, a really bad ski mask or an inept criminal's attempt to hide his identity. It's like "The Unknown Comic" but years before that comedian covered his face and told his jokes to adoring audiences on The Gong Show and Sonny and Cher Show.
You've got to admire Soul's commitment to music to perform in a ski mask. It had to be hot. And uncomfortable. But as a gimmick, it worked and Soul parlayed that bit of fame into bit parts on early '70s TV shows like Here Come the Brides and Owen Marshall: Counselor at Law (man I miss the earnestness of 1970s TV shows. Counselor at Law. High-larious).
But Soul's big brush with one-hit wonder TV fame happened when he signed on for a cop show called Starsky and Hutch. This cop show (another brainchild of Aaron Spelling who gave the world Charlie's Angels, Dynasty and Beverly Hills 90210) found Soul playing the intellectual David "Hutch" Hutchinson in Bay City, California where he chased down bad guys and rode shotgun in a red 1975 Ford Gran Torino muscle car.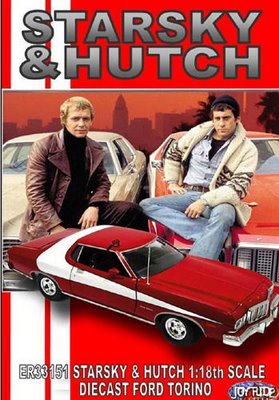 If you were a boy in the 1970s, you idolized Starsky and Hutch.
Not surprisingly, if you were a girl in the 1970s, you were in love with Starsky and Hutch. Especially when Hutch sang his ultra-sensitive ballad, "Dont Give Up On Us." That song shot to the top of the charts in 1977 in both the United States and England and turned Soul into a true-blue one-hit wonder.
I haven't heard it on the radio in years. But it was everywhere in 1977 and VH1 deservedly rated "Don't Give Up on Us" at #93 on VH1's 100 Greatest One-hit Wonders. Soul had other hits, but none of them ever hit the Billboard Top 40 in America (he remained hugely popular in England however for a few more years).
Click to read "Don't Give Up On Us" lyrics
Enjoy this one-hit wonder ballad and watch the video that covers David Soul's long singing and acting career.
Listen to "Don't Give Up On Us"
Watch a little David Soul history
Filed under: 1970s, Pop · Tags: #1 hit, #1 song, 1977, actor, ballad, Billboard number one hit, Bruce Willis, David Soul, John Schneider, Leif Garrett, number one song, one hit wonder love song, one-hit wonder ballad, Rick Springfield, Starsky and Hutch, TV show