» 2000s, Pop » Do I Make You Proud – Taylor Hicks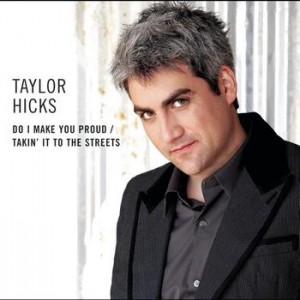 Scotty McCreery, the 17-year-old from Garner, N.C., won American Idol tonight. That's 10 seasons of Idol and 10 winners who have gone on to fame (Kelly Clarkson, Carrie Underwood and Jordin Sparks) and relative obscurity (Ruben Studdard and Taylor Hicks).
Taylor Hicks is an interesting study since he is one of only two American Idol winners to place a single song in the Billboard Top 40 (the other is 2010 winner, Lee DeWyze).
But Hicks single "Do I Make You Proud" hit #1 on the Billboard Top 40 in 2006, making Taylor Hicks a one-hit wonder.
No matter how much the "Soul Patrol" loves Taylor Hicks.
No matter how much he looked like the love child of Jay Leno.
No matter how soulful his voice rang out or how he also evoked a certain Michael McDonald of the Doobie Brothers vibe, chart success isn't happening for Hicks.
Click to hear more one-hit wonders that are Billboard #1 hits
Listen to Do I Make You Proud by Taylor Hicks
He hasn't given up. Although he was dropped from his Arista Records contract just two years after winning American Idol in 2006, He still records albums and currently stars in the stage production of Grease on Broadway.
So he's doing just fine. But Taylor Hicks proves that having a soulful voice, a passionate fanbase and winning the most successful talent show the world has ever seen doesn't guarantee anything more that becoming a one-hit wonder.
Good luck and congratulations on your win, Scotty McCreery. Perhaps you'll go on to country music greatness. Or perhaps you'll have your own entry here at Top One-Hit Wonders in a few years. Time and the record-buying audience will decide.
Filed under: 2000s, Pop · Tags: #1 hit, #1 song, 2006, American Idol, ballad, Billboard number one hit, Do I Make You Proud, Michael McDonald, one hit wonder love song, power ballad, Taylor Hicks