» 1970s, Pop » Chevy Van – Sammy Johns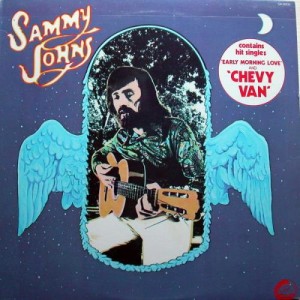 Anybody remember the van craze of the 1970s?
During that decade's second half, thousands of brilliantly-painted vans with intricate artwork (often airbrushed on) rolled down the nation's highways. The interiors of these rolling works of art were as elaborate as the outsides, with beds, plush carpeting, soft lighting, "captain's chairs" up front, a good stereo system, and the obligatory citizen's band radio (CB radios were an even bigger craze at that time).
No expense was spared for these palaces on wheels.
I was too young to drive when the van craze was going, but I loved those rolling works of art, each one more colorful than the last, and I quickly learned that designing and drawing my own vans at school was infinitely more fun than say, figuring out the square root of 173 or picking apart The Merchant of Venice.
(That noise you just heard was a torch- and pitchfork-bearing Shakespeare fan kicking down my door.)
Of course, one purpose of these vans was to attract the opposite sex and in 1975, during the early days of the craze, a song about a successful "conquest" turned a Charlotte, North Carolina singer/songwriter into a one-Hit Wonder when Sammy Johns drove his "Chevy Van" to Number 5 on the Billboard Top 40.
Listen to Chevy Van by Sammy Johns
The little ditty had as much substance as a toy balloon and was definitely goofy in the lyric department, but it epitomized the van culture perfectly.
After all, disco, "The Gong Show," CB radios, "streaking" and other silly, even idiotic crazes were part of what made the '70s as fun and colorful as those vans.
Sammy Johns would never have another Billboard Top 40 hit. However, he did pen songs for Waylon Jennings, Conway Twitty, John Conleee and Sammy Kershaw. In fact, Conway Twitty covered "Chevy Van" on his 1996 album titled Politics, Religion and Her.
Sammy Johns who died on January 4, 2013, and colorful vans no longer roam the nation's roads. But it was fun while it lasted. Long live the Chevy van!
See a bunch of customized vans from the film, The Van
Filed under: 1970s, Pop · Tags: 1970s one hit wonder, 1975 1 hit wonder, 1975 one-hit wonder, Chevy Van, folk rock, one hit wonder of the 1970s, Sammy Johns, singer songwriter