» 1980s, Pop » Chariots of Fire – Vangelis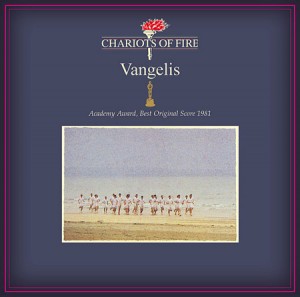 There aren't many instrumental songs that ever reach the Billboard top 40. But 1982 is the banner year for instrumental hits with "Hooked on Classics" and "Hooked on Swing" both charting at #10 and #31 respectively.
Most people understandably forget those warmed-over classical music songs with a disco beat.
The instrumental song they do remember from 1982 is the theme from Chariots of Fire. This British film was nominated for seven Academy Awards and won four, including Best Picture. If you ask us, it's a bit slow and chatty. Then again, we're writing about one-hit wonder pop songs, so what do we know about highbrow art?
It was written by Vangelis who was surprised as anyone when the song starting climbing the Billboard charts, ultimately reaching #1. You see, Vangelis was an electronic music composer and had never even scored a commercial, let alone a commercially successful film.
Click to hear other Billboard number-one hit one-hit wonders
But this was his moment to shine and the little song kept chugging its way up the charts until it reached the top position and his soundtrack for Chariots of Fire received the Academy Award for "Original Music Score." And here's one more impressive fact: the Chariots of Fire album spent 97 weeks in the Billboard top 200, selling 3 million copies in the first year alone.
Can you say royalty check, sir?
Like most one-hit wonder artists, Vangelis was only marginally interested and proud of his hit. In a 1991 interview with German newspaper De Telegraaf, he said, "It occurs very rarely that a composer thinks of his most successful work as his best. I am no exception to that rule. I think of my soundtrack for Mutiny on the Bounty as endlessly more interesting than Chariots of Fire."
Interesting or not, Mr. V., you're a member of the distinguished one-hit wonder fraternity. Congratulations.
Click to hear more instrumental one-hit wonders
Listen to "Chariots of Fire" by Vangelis
Chariots of Fire – Vangelis
Buy "Chariots of Fire" by Vangelis
Filed under: 1980s, Pop · Tags: #1, #1 hit, #1 song, 1982, academy award, Billboard number one hit, Instrumental, instrumental one hit wonder, movie one hit wonder, movie soundtrack one-hit wonder, movie theme, number one song, Original Musical Score Academy Award, Pop, soundtrack, Vangelis