» 1970s, Pop » Beach Baby – The First Class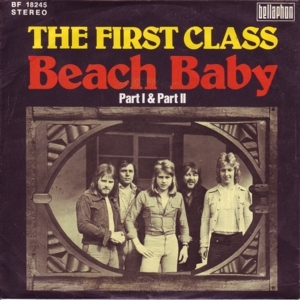 The Beach Boys aren't the only act who hit Top 40 gold with songs about the beach and babys.
First Class did a first-class job with their 1974 hit "Beach Baby" that reached #4 on the Billboard Top 40 in 1974 making The First Class a one-hit wonder.
The Beach Boys sang "Don't Worry Baby" and "Wouldn't It Be Nice,"
First Class essentially combined the two titles and concepts, added soaring three- and four-part harmonies in the background, then threw in strings and horns to ensure that listeners would think they were hearing Pet Sounds by The Beach Boys instead of "Beach Baby" by a no-name band like The First Class.
It worked exceptionally well. The production on "Beach Baby" is fantastic and impressive. Seriously. Drop a pair of headphones on your head and listen to the interwoven parts. Vocals, strings, horns; they all blend together so seamlessly, you would swear Brian Wilson must have been at the recording console.
He wasn't.
Maybe you're hearing The Polyphonic Spree.
You're not.
Listen to Beach Baby by The First Class
But "Beach Baby" is a sunny pop hit that rightfully brought the British band huge success in 1974.
Yep, First Class is a band of Brits, even though you would swear they are from Southern California. Kind of the same way "Sausalito Summernight" by Diesel from the Netherlands sounds like a sunny California band as well.
Click to hear more British one-hit wonders
For extra savvy listeners, award yourself 58 bonus points if you correctly placed the middle horn break from Sibelius' Symphony No.5. Okay, if you don't know that one, how about the horn fanfare that kicks of "Since Yesterday" by Strawberry Switchblade, a Scottish band who hit #5 in England with their song but didn't even chart in the United States.
Love "Since Yesterday" by Strawberry Switchblade. Always have. Always will. Click to hear "Since Yesterday" on YouTube.
Quadruple-bonus trivia points if you correctly noted that First Class lead singer Tony Burrows is also the voice on Edison Lighthouse's "Love Grows (Where My Rosemary Goes)" from 1970; "My Baby Loves Lovin'" by White Plains from 1970 and "Gimme Dat Ding" by the Pipkins, also from 1970. That's three one-hit wonders in one year and Beach Baby in 1974. Astounding!
Even more astounding, Tony Burrows also sang lead vocals on two-hit wonder The Brotherhood of Man's "United We Stand," which reached topped out at #13 on the Billboard Top 40, yet again in 1970. That's five hits in five bands by one guy. Tony Burrows, you are the man!
Buy Beach Baby by The First Class
Filed under: 1970s, Pop · Tags: 1974, Beach Baby, Beach Boys, Brian Wilson, British band, British one-hit wonder, Edison Lighthouse, First Class, Gimme Dat Ding, Love Grows (Where My Rosemary Goes), My Baby Loves Lovin', Pipkins, summer one-hit wonders, The Brotherhood of Man, Tony Burrows, United We Stand, White Plains